With casual, urban clothing in bright colors, the new clothing line GettaGear is in town and quickly gaining momentum. The line consists of Getta logos and vibrant prints, like black and gray dots that spell out "Be You" on a woman's pink T-shirt or simpler colors on men's shirts. The T-shirts all have a signature small Getta logo on the back shoulder. As T-shirts and casual clothing are staples in any college student's closet, with hoodies, sweatpants, shorts and beanies, the line targets teens and young adults.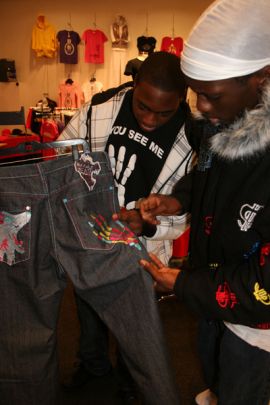 Fred Yaple '91 and his wife Vallerie Yaple '98 launched their clothing line, GettaGear, on Oct. 27 when they opened GettaZone, a store in the Arnot Mall in Horseheads, N.Y. The designing duo's second GettaZone location opened Nov. 21 at The Shops at Ithaca Mall. The clothing line will be available for purchase online at www.GettaGear.com in January.
Since the opening of the couple's Ithaca store, the clothing line has been growing and sales have been up, Vallerie Yaple said.
"When we first started the Horseheads store, that was a brand-new thing," she said. "It was like trial and error. The transition to the Ithaca store was a lot easier."
Both locations sell other urban clothing brands such as RocaWear, Applebottom Jeans, Baby Phat and Ed Hardy Jeans at discount prices.
With the opening of the Ithaca GettaGear store, the line is attracting the attention of college students in Ithaca.
Lauren Gluck, a sophomore at Cornell University, said the appeal of the Ithaca store lies in more than just the clothes.
"There are lots of bright colors that attracted me," Gluck said, as hip-hop played in the background of the store on Saturday. "The music kind of brought me in."
While shopping at GettaZone on Saturday for the first time, Cornell sophomore Rebecca Dion said the clothing line is unexpected in a place like Ithaca.
"They're different from a lot of the stuff I see around here," she said.
When they graduated from Ithaca College, neither Fred Yaple nor Vallerie Yaple had plans to design clothes or open a clothing store. Vallerie graduated with a degree in corporate communication and worked in administration for the college's humanities and sciences's dean's office for four years. Fred graduated with a degree in physical education.
The Yaples pooled their backgrounds in business — Vallerie Yaple eventually owned a catering business, and Fred Yaple worked in the business world — and began planning designs and finding partners for GettaGear in July 2008 after years of discussion.
"Once we made the decision, we really hit it," Fred Yaple said. "We started to find experts that could lead us in the right direction."
The couple teamed up with Berry Blanton and Matt Zuckerman, who work on clothing designs, Web design and marketing at BZ Worldwide, an Emmy award-winning creative firm based in New York City. The line is primarily manufactured by American Apparel.
Vallerie Yaple said the plan became clear after she began talking to several people who work in clothing design and could help with the creative aspect.
"It clearly started with the vision," she said. "Once you see the vision, and you really can conceptualize your vision, you can begin to act on it …. We started becoming experts in a field that we weren't experts in."
For the design, the couple relies on a young team to find out what the trends and styles are, always making sure the line is appropriate for young teenagers and approving final designs.
"[The designers from BZ Worldwide] are young people," Fred Yaple said. "For designs like these, we need youth. We're old and white and we know better. We already tried our designs."
Fred Yaple spent 14 years as an administrator in New York school districts and has eight kids, so he said working with young people comes naturally to him, but there are some difficulties.
"As an administrator, you're always battling that — what's appropriate, what's inappropriate," he said. "So this is something we believe we can put out that's cutting edge, that's a little edgy, trendy, but really appropriate."
The couple aims to create clothing young people can feel good about and "putting those subliminal positive messages out there for kids," Vallerie Yaple said.
During the transition and adjustment process to their Ithaca store, the Yaples said they are mainly focusing on establishing a strong local base.
"We want to keep that retail presence and then focus on the national launch after Christmas," Vallerie Yaple said.
The couple plans to take a few months to work out small errors on the Web site, which will only sell GettaGear products, before they begin shipping worldwide, Vallerie Yaple said.
"We don't want to think too big too quickly, because then you kind of lose your focus of your immediate picture," she said. "Based on what we've learned moving up through that, we'll be able to take all that with us as we do it on a large, large scale."