Three friends from upstate New York, 19 different countries, 10,000 miles of travel and only one rule: roll up to the starting line in a car with an engine no larger than a liter.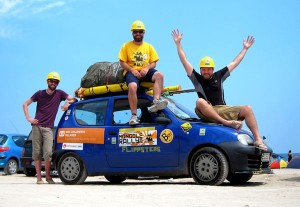 Ithaca College alumni Chris Burt '08 and Pete Berg '07 joined teammate Jeff Andrews this July as The Rubber Duckies team in the Mongol Rally, an epic road trip sponsored by the UK-based League of Adventurists. They've gotten lost. And they've run out of gas at inopportune times. But they've also raised more than $8,000 for charity.
Berg first heard about the rally in 2007 when he was a senior at the college, and said it appealed to his sense of adventure. As a student at the college, Berg produced the ICTV show "The Great Race," a show modeled after "The Amazing Race" with teams competing to reach local landmarks.
"I knew that I wasn't ready to settle down in the real world and I wanted to do some traveling and go on some crazy adventures," Berg said.
Any donor who contributes $25 or more to The Rubber Duckies team gets a personalized rubber duck to name whatever they choose. The team brought along 250 ducks to distribute to friends or children they met on their way to Mongolia. The teams takes a picture of the duck on location with the person who has received it and the photo is sent back to the duck's sponsor.
"The rubber duckies … increased our number of donations quite a bit," Berg said. "It's also gotten our friends and families more invested in the trip because they're coming along with us in a sense."
The team began their journey from London to Ulan Bator, Mongolia, this summer in a 2004 Fiat Seicento they bought sight unseen. The Rubber Duckies are following what they call an "un-route:" there's a starting point and an end point, but the exact way to get there and how long it takes is up to each team. GPS and electronic navigational devices are not allowed.
This year marks the eighth annual Mongol Rally, with 800 people from more than 20 countries participating. The Christina Noble Children's Foundation is the sponsored charity this year. They work to help orphans and street children in Ulan Bator.
The Rubber Duckies also decided to raise money  for S.O.S. Children's Villages, an organization that helps orphaned and impoverished children by establishing orphanages.
"From the beginning, we thought we would raise money for underprivileged children or orphans," Burt said. "We realized S.O.S. Villages is the charity we wanted to support because they do really amazing work and help children in over 130 countries."
Tom Morgan, a founder of the League of Adventurists, went on an exchange program in 2002 to the Czech Republic. He bought the only car he could afford — a Fiat 126 — and embarked on a journey to Mongolia.
"The point of everything we do is to organize real adventures," Morgan said. "You have no idea what is going to happen or if you will come out the other end. We set the stage and hope the chaos ensues. It usually does."
The two-month rally wasn't all fun and games, Burt said. The team has experienced many close calls and a lot of breakdowns.
"We had to deal with corrupt police in Uzbekistan and had to play dumb to get ourselves out with all sorts of bribes," Burt said. "At one point, we got surrounded by about 20 cops at 2 a.m. and it took an hour and a half for us to get out."
When the team was on the Pamir Highway in Tajikistan, a place where four wheel drive and ample ground clearance is a must, they learned that their Fiat Seicento was not the right car to take on that road.
"A lot of the Pamir has no electricity or running water, not to mention no mechanics, so by the end, it seemed like we were fixing our car with bubble gum and popsicle sticks," Burt said.  "If it wasn't for the helpfulness and generosity of the dozens of locals who helped us keep the car moving, we would have never made it."
On the ferry across the Caspian Sea, Berg's backpack, with their only set of car keys in it, was stolen by the captain of the ship — an Azeri pirate — while Berg was sleeping. The team managed to get it back by giving him a bottle of cognac.
In Uzbekistan, they ran out of gas due to a fuel shortage and had to haggle for low-grade petrol on the black market. Their car overheated in the desert heat from the cheap gas.
Even with their mishaps, Berg called this experience an adventure of a lifetime and wants to spend the next six months traveling to Canada and Central America after the rally.
The three adventurers are currently on their way from Kyrgyzstan to the finish line. Last week, they broke down and had to be towed seven times. The race ends Saturday, so the team is going to be cutting it close to meet their deadline.
Bert said the best advice he received before he began the trip was to put himself out there and explore as much as he could.
"Always say yes when you get invited to do something like the rally," he said. "You won't regret it."