As a student at Ithaca College, Hayden Ort-Ulm '11 tore apart local buildings for charity. Now as an alumnus, Ort-Ulm is working to build new buildings back up.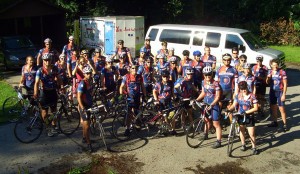 In college he worked on construction projects with Finger Lakes ReUse, an organization that uses the materials from deconstruction sites to build sustainable structures. Now he plans to pedal his way from Providence, R.I. to Seattle, Wash., to bring attention to the need for affordable housing in underprivileged communities.
"People can build other structures for half the cost because it's reused material" he said. "I haven't had too much experience building homes, but I'm not worried about it. I'm pretty handy."
Ort-Ulm is embarking on this trek with other volunteers for Bike and Build, an organization that supports affordable housing in the United States. To raise the $4,500 he needs to secure his place on the trip, he's hosting a benefit concert at The Nines on Feb. 10.
Ort-Ulm has already raised more than $1,000. At this benchmark, the organization sends the rider the bicycle they will use on their journey.
Ort-Ulm asked his friends' bands to help bring in the extra cash he needs to reach his goal of $4,500. The groups scheduled to perform are local folk band Thunderstorm Clouds, singer Jill McCracken, and Ithaca College student group Gypsy Gets Shotgun.
Jeremy Betterley, Gypsy Get Shotgun's guitar player, helped Ort-Ulm plan the benefit concert.
"I'm a big believer in sustainable transportation," Betterley said. "It's awesome that they're doing a charitable thing such as building houses [while] biking."
Justin Villere, a Cornell graduate, is the director of operations and outreach at Bike and Build. Villere said it is important to not only contribute to affordable housing, but also to understand the roots of the issue.
"We require that [riders] spend some time with our affordable housing curriculum," he said. "That would be studying a particular piece of the multipronged issues as far as what causes housing shortages in the United States and the types of shortages."
Villere said while the riders are working to build communities, a community is being developed among the riders themselves.
"[Riders] stay committed to the organization long after they've completed their ride," he said. "It's such a unique experience and they find their lives are really changed by it."
James Fraser, associate professor of human and organizational development at Vanderbilt University, is an affordable housing expert and said the culture of affordable housing in the United States has changed drastically during the past few decades.
"The need for affordable housing, or accessible housing, is never going to go away," Fraser said. "Now we see middle-income families sliding down into situations where they're losing their homes and they don't know what to do."
Fraser said despite government funding and other nonprofit organizations working to help build homes, there is still an opportunity to give to people who need more help.
"A lot of the building that's going on is affordable to moderate-income people," Fraser said. "But only 25 percent of those funds have to be put toward building housing for people that are 50 percent or lower of the area
median income."
Bike and Build works to spread the word about the increase in housing shortages throughout the United States.
"It's not just in an inner city or a rural farm in a sparsely populated area," Villere said. "You'll find housing shortages happen just down the street and you never
realize it."