Warming sunlight flows over growing green earth, and the luscious grass drinks in the light in an untouched world. Graceful vines intertwine across the trees, creating protection and comfort. The light blue sky shines cloudless, casting its unrivaled beauty over the wonderfully perfect land — Eden.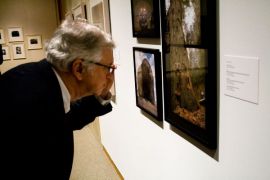 This is a series of photographs exploring the complex idea of biblical Eden. Featuring more than 150 photographs by 37 artists, the exhibit displays the artists' own philosophies of nature and perfection.
The exhibit was organized in 2006 and shown for the first time by the George Eastman House, a nonprofit museum of photography and motion pictures in Rochester, N.Y. Since its inception, "Picturing Eden" has been critically acclaimed by ARTNews and Oprah magazines for its diversity in technical style, from digitally enhanced to traditional prints. It has since been traveling to private museums around the world.
Frank Robinson, director of the Herbert F. Johnson Museum of Art, said he was excited about the exhibit's exploration of such a mysterious idea. "Picturing Eden" allows people to question the traditions that often accompany the myths and realities of paradise, he said.
"The exhibit asks, 'What is Eden all about?'" Robinson said. "And the idea of paradise and its sheer beauty, and of beauty lost, as well. What is the meaning of real beauty? Is it just skin deep? Is it nature? Is it childhood? Is it flowers? Who knows what real beauty and perfection is?"
With many cultural perspectives — as the exhibit houses works by artists from six different countries — "Picturing Eden" offers a wide range of inventive styles, including Ilfoflex, pigment and gelatin silver prints. Most notably, it includes works in which the artist creates his or her own sense of reality with surreal images.
For example, on the left wall of the exhibit, the vibrant colors of Dutch artist Ruud van Empel's work creates a hyper-reality. His seven-picture series is made of pieces of different photographs digitally placed together to create one intensely vivid image. In the first photograph, a young girl stands among a mass of lime green leaves. Her stark white dress flows over her dark skin and a slight smile shines within her brown eyes. A lavender flower to her left is a single spot of color among a sea of green.
Carla Stetson, assistant professor of art at Ithaca College, said she was most intrigued by the intensity of the images and the assortment — not only in subject and concept but also in the creative digital enhancements.
"I like the combination of the surreal and the traditional landscape, the old and the new," Stetson said. "It's really fascinating to see all of the different processes. It has a lot of everything — different histories and styles, from postmodern neurotic [a style of art that explores psychological neurosis] to really old, beautiful images."
Combining the beauty of nature with the brutality of war, Vietnamese-American artist Bin Danh's pieces are photographs of U.S. soldiers and Vietnamese children printed onto leaves. From a distance, they are simply dried leaves set within black frames. Up close, the faint images are visible on the body of the plant. On one leaf, soldiers crouch down to talk to a Vietnamese boy, clutching their guns close. In another, a Vietnamese man looks sadly at the ground. His hardened features fade into the leaf's veins.
Carolyn Belle, an Ithaca resident and second grade teacher, said she was particularly interested in the leaf prints for the artist's original use of photography to express his ideas. Belle said this innovation was what made the exhibit so interesting.
"A photograph doesn't [have to] reflect a physical reality," she said. "And so that is where altering images and pictures intermix. It's mystic reality but not physical reality."
Cornell senior Steve Cascante said he was most intrigued by the ideas behind the photographs and how the artists were able to use the photographic medium so well and in such innovative ways.
"They're all kind of surreal," Cascante said. "You can't grasp them like you would a normal photograph, but you can't really grasp the idea of Eden [either]."
"Picturing Eden" runs through March 5 at Cornell University's Herbert F. Johnson Museum of Art.