The lights go off.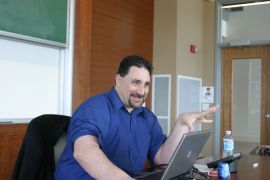 In the darkened room, a barrel-chested man presses play. A dancer swirls onto the screen and, as drumming beats surround her, her body begins to flower into hundreds of other dancers. She spins and swoops as a disembodied voice intones, "I'll give you an insight into how it all began."
Eventually, the dancers fade to twinkling stars and the words "A film by John Fracchia" blink onto the screen. The man smiles as the movie ends, and for an instant he's a beaming director who could've just screened his magnum opus to an audience of rabid fans. Excitedly, he talks about how his film seeks to show the "unlimited nature of human potentiality."
Then the lights go on, and once again, he's back at his day job as John Fracchia, Ithaca College's assistant director for employer relations — the "career guy" who helps students pursue their dreams.
"I'd be a bit of a hypocrite if I didn't do that in my own life," he said. "People tend to see you in the role you're hired to work at, but I've always been more eclectic than that. During the day, I'm working in career development, but at night, I'm working in the arts."
Working in the arts might be an understatement. In no particular order, Fracchia, at 43, is a songwriter, photographer, poet, playwright, novelist (with a book at the publisher) and, most recently, an experimental filmmaker.
Though his interest in film began in college, when he majored in cinema at Binghamton University, Fracchia pursued more practical jobs after graduation. Then his wife, Nancy Kane, approached him about creating a piece as the backdrop for a dance she was choreographing.
For that, he filmed the gorges of Ithaca and spliced it together to create a soothing, burbling film that reignited his interest in the moving image. Before that, Fracchia had only worked with physical 35 mm film, but having now discovered digital filmmaking, he's hooked. Then, he said, he did what many people do these days — "I put it up on YouTube."
After his film "Outside-In (finite)" was viewed almost 2,000 times on the site, professional success came in the form of an e-mail from the Saferis Art Galleries, a large exhibition hall near Tulsa, Okla. The gallery wanted to showcase his film, and they wanted to see more.
Fracchia, who has been at the college for 14 years, is used to hearing the success stories of others, but he wasn't so prepared for his own.
"I thought someone was punking me," he said. "But eventually I determined that this could be a real opportunity for me."
Then, Fracchia fell victim to a trap he often counsels students to avoid — not being prepared when networking.
"[The gallery owner's] next question was 'Do you have other pieces,' and my answer was, 'Sorta,'" he said. "I always say make sure your résumé is ready, just in case. And there I was in that situation."
The gallery still wanted his films, so Fracchia toiled by night for several months to put together "Celestial Somethesis" and "Blue Water Falling." In one of the several-minute pieces, he digitally painted every single frame. He also created his own haunting piano dirge to accompany the film "Celestial Somethesis."
Despite the sudden success, Fracchia has had his share of disappointments.
In high school, he was the singer and guitarist for his first band, Pegasus. But there came a time when the band members decided "they wanted someone else to be in his place," said Kane, his wife and friend of 30 years.
"When you're a team member and you've put so much of your heart into something, that's hard," Kane said.
Fracchia has put that behind him, though, and he now teaches others how to be team players as a counselor and in his Professional Skills class. His students are learning to work as a team to diagram a workplace, and he's standing behind them as they frantically draw on the white board, arms crossed against his barrel chest, a broad, toothy grin on his face.
"Dun dud da! Teamwork!" he said, as he makes sure no one talks to each other as part of the exercise. "I'm like the speech police."
While Fracchia's teaching teamwork in the classroom, he's also practicing it. With longtime friend Kerry Forrestal, Fracchia co-wrote both a play, "Club Hell," about two marketers who convince the Devil to give Hell a makeover, and a soon-to-be-published science fiction novel, "Cataclysm," an allegory about social clashes in a future society.
Forrestal, an emergency room physician, said in Fracchia, he's found a writing partner he has real rhythm with.
"I'm so convinced he can do everything," he said. "He's genuinely the Renaissance guy. He can pretty much do anything he wants creatively and do it well, but I've never seen the man shine the light on himself."
Chris Utz, a senior taking Fracchia's Professional Skills class, said Fracchia has helped him prepare for graduation and the real world by forcing him to apply for his dream jobs.
"He's a really caring guy when it comes to students," he said. "He's very open and in tune about giving feedback. He'll go out of his way to help us."
But movies? Utz wasn't expecting that one.
"That's a side that doesn't always jump out at people," he said.