Turkish women dress in panther suits, gossiping and sucking down glasses of wine. Iranian men and women talk and fight in typical soap opera drama scenes. These  are not the usual images of the Middle East and Central Asia in the media,  but they're a reality in the collection at the Herbert F. Johnson Museum of Art at Cornell University.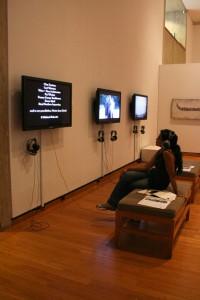 Tarjama/Translation, a collection of pieces by contemporary artists from the Middle East, Central Asia and its diasporas, is currently showing at the museum through Oct. 3.
Originally organized by ArteEast and shown at the Queens Museum of Art in 2009, the collection showcases different media to express multiple processes of translation. The title itself, "Tarjama," means translation in Arabic.
The pieces analyze and express the different meanings of translation — on the linguistic and textural level — and its influences from historical awareness and globalization.
Iftikhar Dadi, associate professor of art at Cornell and a curator for the collection was involved with its original showcase in Queens.
He said this show is different from other collections because it does not show a typical image of the Middle East as an oppressive environment. He said he wanted to stay away from the stereotypes seen in the media.
"A lot of the shows actually reduced the complexity of what is happening there," he said. "We didn't want to make a show about terrorism versus art as a kind of liberation. Societies are oppressed and art is a kind of self-expression liberation, but actually it's much more complex than that."
Reem Fada, a curator for the show who was also involved in collecting the pieces in 2009, said it was important to find pieces that express the complexities of people's situations in the Middle East.
"We wanted to complicate it by the multiplicity of the medium with the multiplicity of the messages that were conveyed," she said. "You can start to see those layers of the variety of the culture being there."
Dadi said this show is meant to help people realize the Middle East has a flourishing art world.
"We wanted to do this exhibition because we felt that a lot of these artists are not well known in America," he said. "We thought that there is a lot of strong work coming out of these regions. Many of these artists live in these tumultuous regions, so their works deal with these issues."
One such piece that has quieter political perspective is the video by Gülsün Karamustafa called "In the City and the Secret Panther Fashion." It shows a group of Turkish women taking part in the classic female pastime of dressing up. They laugh, gossip and eat indulgently, all while trying new hairstyles and showing off their spotted clothes.
Dadi said in the past, the image of the Middle East has been oversimplified. He said pieces like this show that political and gender issues are not the only concerns of the people living there.
"The thing is that there is still fundamentalism and terrorism in these areas, but that doesn't mean that there are not other things, that there aren't other important concerns for people," he said.
Slightly more traditional is Yelena Vorobyeva and Viktor Vorobyev's piece called "Blue Period." It is a series of photographs of people living in Kazakhstan — from photos of children sitting on a broken bench to an old women cooking and serving noodles. The unifying part of the pictures is a vibrant sky blue — the republic's color — painted all over the city.
Ithaca resident Naiane Farrell was most impressed by this piece in the collection. She said it showed the people of Kazakhstan in the most truthful light.
"This one is my favorite — how they work with the colors," she said. "It's not like they tried to show the best scenario. It's not sad though because this is their reality."
Dave Farrell, Naiane Farrell's husband, also said the collection as a whole showed a powerful image of the Middle East. He said "Blue Period" was intriguing because of the way it portrayed life in the country.
"It's definitely more impact than you get on a day-to-day basis," he said. "It almost feels like one painting, like someone could just slide them together and it could be something that someone just created. It's not trying to be anything. It's just moments — moments from these people's lives."
Fada said this collection shows the true diversity in these countries.
"We did not want to create the idea of a one Middle East," she said. "I don't think it exists anywhere."