While composer John Adams' opera  "Nixon in China" has been a theater favorite for more than 25 years, Timothy Johnson, associate professor of music theory, composition and history, is giving the old notes a new tune.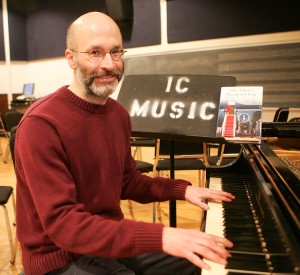 In 1972, Richard Nixon established a revolutionary partnership with the People's Republic of China. Now, Johnson has shed new light on this historic event through an intimate analysis of the musical interpretation of Nixon's visit to China in his book, "John Adams's Nixon in China: Musical Analysis, Historical and Political Perspectives."
The book is divided into three parts, giving special attention to scenes that portray meetings between officials, principle characters resembling American and Chinese officials and broader ideas surrounding the meeting as a whole. The meeting was held at the beginning of Nixon's bid for a second presidential term.
The book reads like a listener's guide and has CD references throughout. It is designed for the reader to listen to specific parts of the opera and then read Johnson's explanation of the segment.
"I try to take apart most of the things that happen and most of the things that are said musically," Johnson said. "I try to figure out what it means and what it tells us about the event."
Johnson said the importance of the time in history and the significant place that Adams' work has taken in the realm of contemporary opera attracted Johnson's attention, and he has been studying the opera for more than 23 years.
"John Adams has become one of the most well-known composers of our time," Johnson said. "This is one of his principle works. Most contemporary operas get a big splash, they get a run, and then they go away. This one keeps getting done."
Ashgate Publishing released the book in 2011 after six years of extensive research that included interviews with Adams, as well as other experts and resources with information about Nixon, first chair of the Communist Party of China Mao Zedong and other public figures. The opera's focus is particularly intriguing, Johnson said, because it depicts something about Nixon's presidency apart from Watergate.
Johnson is the first to analyze the play using neo-Riemannian theory, an alternative way of explaining the way one musical chord moves to another.
"It's the ability to create something that transcends itself," Johnson said. "This opera is more than what it appears. You can learn things from it that aren't really there on the surface, things that weren't even intended by the composer."
Johnson said with better comprehension comes better enjoyment of any musical piece, including "Nixon in China."
"Not everyone loves the opera, and not everyone loves every minute of the opera," Johnson said. "That used to include me, but now I do love it because I have a better understanding of it."
Kyle Gann, associate professor of music theory and history at Bard College, reviewed the manuscript for the publisher. Gann said the details of important moments in history can sometimes become fuzzy over time — a process that Johnson aimed to reverse in his book.
"He brings to it a new kind of musical analysis and he was one of the first people that got me excited about this," Gann said. "This is a new type of harmonic analysis that has only been around for about 24 years."
Rebecca Jemian, a music theory professor at Ithaca College, read Johnson's proposal before it was sent to the publisher. She said the book achieved a level of readability and speaks to more than musical theory alone.
"He accomplishes the really difficult task of making the music accessible to a broader audience because of the context that he puts the work into," Jemian said.
Johnson said he hopes his readers will gain a better appreciation for Adams' opera.
"By opening up some of the parts that are hard to understand on the surface, I'm hoping that people will be able to come to it from a different angle and hear some of the nuances that are there in the music," Johnson said.