At each end of a 7-foot table stand two men and 10 cups formed into the shape of a pyramid. In the hand of a player from each team is a ping pong ball. It's a scene any college student is all too familiar with. What's not as common is the teams' incredible accuracy. The player who sinks the cup first gets the opening shot — and scores again.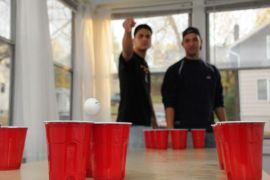 Since freshman year, seniors Kyle Curasi and Dave Lawrence have grown accustomed to this scenario all too well. They have been a strong team in the popular college drinking game known as beer pong.
"Dave hits cups and then I do the rest," Curasi said. "I like to go second because I want the chance of hitting the double cup or having the bounce available."
At 7 p.m. tomorrow, the team will test its skills at Pancho Villa as the World Beer Pong Tour hosts its fifth tournament in Ithaca. Players on registered teams must be at least 21 years of age and will compete in a bracket-style double elimination tournament.
The event isn't only about beer pong, but socializing with friends and having a good time, said Sam Pines, CEO of the World Pong tour.
"It's like a sporting event because people come out and play, and it's about competition," he said. "Similar to playing in a basketball game, you need the same sort of focus and everybody takes it seriously — it's really amazing."
Thirty to 40 teams are predicted to sign up, regional tour manager Neil Kapoor said. It's $25 to play and teams can preregister online at www.worldpongtour.com up to two hours prior to the event.
Beer is provided throughout a team's participation in the tournament, but drinking is 100 percent optional, Pines said. Teams can fill cups with water or an energy drink like Red Bull.
Since the World Beer Pong Tour's inception in 2006, the company has expanded its tournament locations. Ithaca will be the fifth stop on a 14-date run throughout New York, New Jersey and Connecticut.
Teams are competing for a five-day, four- night trip. Winners will have six different spring break locations to choose from, all provided by www.studentcity.com. Options include Jamaica, Panama City or a Caribbean cruise. The top four teams will also receive prizes including gift certificates, bar tabs and discounts toward official beer pong tables.
Chris Utz '08, who participated in a tournament first semester last year at 2nd Floor Bar and won a trip to Cancun, said he recalls the experience of taking home the grand prize.
"It was like in high school winning the league in lacrosse because you get that same feeling behind it," Utz said. "It was a sense of accomplishment, major bragging rights for an entire year and one of the greatest feelings I can remember from first semester senior year."
Utz said competition was fierce and the event had drawn a large gathering of supporters.
"It was nerve-wracking," he said. "It got down to the very last cup and I hit it, and I just got tackled by 30 people — it was insane."
Despite the game's popularity, the tournament teams are male dominated, Kapoor said. The World Beer Pong Tour tries to offer discounts to female players in hopes to increase female participation.
"We try to get girl teams obviously because there are a bunch of guys in the room and there is a lot of testosterone," Kapoor said. "We wanted to get some girls in there, so that's why we hired girls to work the events for us."
Senior Ashley Patane has been a beer pong diva for the company since her sophomore year. Her job is to promote the event and referee the games. She said she has seen an increase in participation.
"It makes the event more exciting for everybody to have people watching," she said.
Pines said he is looking to establish beer pong as a justifiable sport and prove that the game is something more than an excuse to get drunk.
"I don't think it's just a fad," Kapoor said. "Beer pong is always going on in frat-house basements and college garages, and we are just trying to bring it to the mainstream."
Senior Andy Pfadt, who will participate in the tournament, said beer pong is more than a drinking game and winning requires skill.
"It's funny how people make jokes about technique, but so much of it is similar to like a free throw or a penalty kick in soccer, in the sense that you need your mechanics down," Pfadt said. "Everything is form related, as ridiculous as it sounds."
Curasi said he has a particular form when throwing the ball.
"I like to stand a little further back, have a little give in the knees, and I like to throw an arcing shot — not too high, but not too low," he said.
With friends nicknaming them "Money Dave" and "Game Over Curasi," Lawrence said he is confident in his team's skills.
"It depends on how many teams, but I think we have a pretty good chance of winning," Curasi said. "We're seniors and aged veterans."