Money — and the lack thereof — seemed to be on everyone's mind during this fall's New York Fashion Week. In the wake of the economic downturn, consumers have become increasingly frugal as the fashion industry struggles to stay relevant with a tighter budget.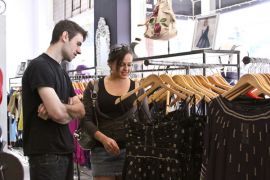 Up-and-coming designers like Kate Cummings are taking the economic climate in stride, creating quality lines for a fraction of designer prices. Cummings is now launching her eponymous ready-to-wear label that melds classic design with affordable style.
Her fall and holiday collection will be featured in 30 stores nationwide, including New York City stores French Corner and Blush and Syracuse store Oleander. The designs appeared on the racks at Morgan's, a high-end clothing boutique on The Commons, last Friday.
The 28-year-old New York City-based designer is confident that her fall collection, which plays to female 20-somethings, will sell despite the odds.
"Creating pieces that cater to this economic change is definitely a challenge," Cummings said. "I really wanted to offer something of great quality at more affordable price points, which is something that the market for college-aged women is really lacking."
Cummings, who never received any formal design training, learned to sew from her mother, who is also a designer, while growing up in Tully, N.Y., just outside of Syracuse. Her decision to enter fashion was partly fueled by her frustration with the quality of inexpensive, trendy clothing.
"In college, my friends and I would go to Forever 21 almost religiously and buy a few new things to wear each weekend," she said. "The reason why those clothes are so cheap is because you can only wear them a few times before they give out or become dated, and it's not worth buying them in the long run."
Cummings said, as a result, she made sure the main concept behind her first collection was a hybrid of high quality and timeless style.
Her black, strapless dress adorned with metallic gold piping on the bodice is made of stretch fabric and sports a box pleat on the front, simultaneously achieving a form-fitting look. Two discreet hip pockets are an added bonus, potentially eliminating the need to carry a cumbersome purse on a night out. This "Rock Goddess" dress retails for $242 — a price point that Cummings said she is proud of. The prices of her designer dresses range from $98 to $310.
"Most other designers in the contemporary market retail similar items for at least $100 more," she said. Black Halo, a competitor in the same market, sells their stretch dresses for more than $340.
Svetlana Davis, the co-owner of Morgan's, said the collection fits nicely with the rest of the boutique's merchandise.
"We are a New York City-style boutique, so we carry only higher-end, name-brand clothes, and Kate Cummings has the right kind of things for our store," she said.
Senior Lindsey Stafford said she might buy Cummings' dress to wear to the senior class's annual Black and White Formal.
"It's something that I'd definitely consider buying," she said. "Even though it's short and black, it's definitely not basic."
For the designer, having her work for sale in boutiques in New York is only the beginning.
As part of her own marketing and branding strategy, Cummings and her design team members sport the collection themselves whenever they can.
"I really believe that by wearing the clothes and representing the brand, we are able to spark the interest of boutique and department store buyers," she said. "It's a big part of why Morgan's chose to buy our pieces."
Cummings' distinct marketing choice commanded the attention of independent boutique buyers, as well as more prominent department stores like Neiman Marcus and Bloomingdale's.
Davis said she expects Cummings' collection to sell quickly this upcoming season.
"It's dicey right now, since we don't have all of her clothes yet," Davis said. "But in a few weeks, there will be lots of people needing dresses and evening wear, and I think [Cummings] will be very successful with the type of girls who shop with us."
To see photos of Kate Cummings' designs, visit www.katecummingsdesigns.com.