As the seasons change, women can abandon their Ugg boots and heavy wool-knit sweaters for bright new metallic sandals and flirty baby-doll–shaped chiffon dresses. Spring's arrival promises new style trends that offer women a chance to feel light and girly again.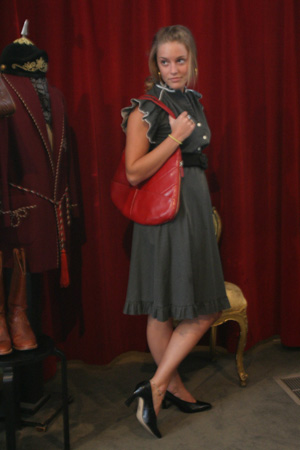 Sophomore Ali Pinckney said she is sick of the black and gray worn endlessly throughout this past winter season.
View a gallery of this season's hottest looks. "I want to start adding in some bright colors to my wardrobe: yellow, red, blue, in subtle ways like through accessories and shoes," Pinckney said.
Down on The Commons, women can kick off their spring shopping with a sexy, yet inexpensive, pair of leopard print pumps. They can splurge for that hot pair of skinny jeans they've been eyeing or purchase a classic vintage '50s party dress that looks better than new.
Evolution 102 is adding a wide variety of women's shoes to its spring collection. Among the shoes being sold are three-inch peep-toe pumps in colors like red, white or black, as well as metallic-colored sandals in bronze, gold and silver.
Owner Katie Spallone said Evolution decided to expand its inventory of trendy women's shoes because of the lack of shoe stores in Ithaca.
"When I want to buy a pair of shoes, I usually have to go to New York," Spallone said.
The sources of Evolution's new shoe collection are primarily West Coast labels QPID and Wild Diva. Priced from $22 to $30, Spallone said the shoes' popularity has soared since their appearance in the store's window display.
"We're selling them like crazy," Spallone said. "They're the hottest selling item in our store."
Pinckney said while she'll pay more for a blazer or jeans, she's less likely to spend a lot on newer fashions.
"I like to shop for accessories or ultra-trendy tops at a reduced price since you never know how long it will be a trend," Pinckney said.
Evolution also features aviators and other large-frame sunglasses from $10 to $12 and a new selection of mix-and-match bikini bathing suits at $19.95 per piece. Spallone said Evolution hopes to bring in stylish trends like these not generally found downtown.
"We're filling niches that other merchants are not filling," Spallone said. "I don't really want to do what other people are doing."
Morgan's is the spot for a preppier, higher-end look. Popular spring items among college women include a striped, long tank by Juicy Couture for $62 and skinny jeans by J&Company and Seven Jeans priced from $148 to $168.
Store manager Beth Lynch said she is unsure whether the shift toward a high-waist, wide-leg pant will be successful.
"Designers are trying to do the wide-leg thing," Lynch said. "I don't think they'll take off as the skinny jean did but it's always a wait-and-see kind of thing."
Freshman Ginalola Lowry said she has been a fan of wide-leg pants since her first pair of Jnco Jeans in middle school.
"I was wearing them when I was in seventh, eighth grade," Lowry said. "I love them, but it's not a new style for me."
As spring arrives, Pinckney hopes to shed her denim for fun, playful dresses in all sizes, colors and shapes.
"I'm really looking forward to finding some cute short dresses, casual and not," Pinckney said. "I like the new baby-doll dresses with the overall/button straps on them."
Morgan's carries a popular black baby-doll style dress by Il Loui for $42.
Ladies looking for a distinctive dress can purchase an elegant vintage '50s party dress by designer Suzy Perette for $75 at Petrune, a store that sells vintage and antique clothing.
As Petrune begins to phase out its winter merchandise, manager Jennifer O'Leary said the store hopes to sell new trends embodied in older pieces.
"Most designers are drawing upon past influences," O'Leary said. "You just have to seek out those original pieces."
A shift to softer tones, like neutral pinks and tans, played a role in the pieces Petrune acquired. Yet metallics and bright yellows and blues are also present throughout the store's spring collection.
"The colors are very reminiscent of the 1980s, but the style and cuts are very modern and contemporary," O'Leary said.
Petrune plans to formally unveil its collection at its fashion show March 31. Fifteen to 20 models will don vintage pieces like a sassy mini polka-dot dress complemented by classic logo '70s Gucci purses.
But for students like Lowry, spring fashions have little influence on their overall appearance.
"My clothes won't be changing too drastically," Lowry said. "I plan to rock sunglasses, maybe some baby-doll dresses and boy pants, or just a plain white T-shirt and my Converses."