When students talk about great people from Ithaca, they often refer to Ithaca College alumni who have long since left town. On Saturday, local artists, musicians and writers will gather to remind Ithaca that its tie to talent isn't always written in ink on diplomas.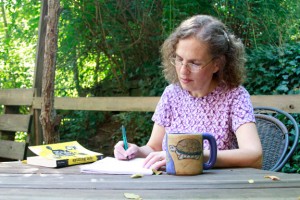 Borders, located in the Shops at the Ithaca Mall, will host a free "Spotlight on Local" event from 11:30 a.m. to 4 p.m. The event is open to the public. Many locals are scheduled  to attend the event, including music groups, mystery, Sci-Fi, romance, local environment and children's authors and select staff of Moosewood Restaurant.
Borders Event Coordinator Angela Aldridge said Ithaca attracts a lot of great talent, and this event is a way to showcase Ithaca's artistic community.
"We're very fortunate in this area that [it] actually [has] a wonderful national reputation," she said. "What we're trying to do is provide a place where people can come and actually see and meet all of the local people."
Borders Sales Director Linda Hendricks said bringing together Ithaca's recognizable names with its up-and-coming stars is a great way for people to get to know the newest talent.
"We thought if we could build up the authors that are trying to get out there with some of the heavy-hitters, they could get some of their stuff out there, and it would benefit them," she said.
Nick Sagan, a science fiction writer and Ithaca native will attend the event. Sagan's father is Carl Sagan, a renowned astronomer and science enthusiast who taught at Cornell University. Nick Sagan's career in film and writing includes work for major studios such as Paramount Pictures, Warner Bros. and New Line Cinema. He also worked as a story editor for episodes of "Star Trek."
Sagan said he loves Ithaca's atmosphere and is honored to join other local authors at this event.
"Ithaca is such a bastion of sanity and beauty and enlightenment in an otherwise oftentimes crazy world," he said. "I have a special affection for the town and the community and the people, and to be included among other local authors here, to me, is a rare privilege."
Children's fiction writer Anne Mazer, who has been published by Random House and Scholastic, will also join the event. Her book "The Salamander Room" was a 1993 ABC Children's Choice Book and Reading Rainbow  feature selection. Mazer said she is attending the event to put her work out there and get a sense of the community among local artists.
"It sounded like a great event that would give me more exposure to the community, and I like being part of a whole group of other writers and other local creative people," she said.
Mazer said the event will showcase Ithaca's varied pool of talent.
"This community has a lot of amazing people who live here and work here, and it sounds like there is going to be a diverse group of authors at this event," she said.
Another talented local who will be at the event is Alfred Di Giacomo, local author of "A Soldier's Diary." He will discuss his book, a personal diary of the three years he spent in the U.S. Army Air Force during World War II.
Moosewood Restaurant will also provide a live demonstration based on its newest cookbook, "Moosewood Restaurant Cooking for Health."
Elisa Sciscioli, an alumna of the college and lead singer of Solstice, is scheduled to perform at the event. She will play songs from her new R&B and funk album, "Red Sky." Sciscioli will be accompanied by Dwight Carroll, guitarist and former musical director for the nationally touring band Shalamar.
Sciscioli said going to off-campus events like "Spotlight on Local" is a great way for students to learn about the Ithaca music scene and get involved with its members.
"It's important to go see music performances outside of the music school to help get a sense of what styles of music they are interested in pursuing," she said.
While this event isn't Borders' first community outreach project, its the largest to date. Hendricks said because so many artists and authors were interested in attending the event, Borders may have to host another in the spring.
"It kind of grew," Hendricks said. "It was like dough — it just got bigger."