It's the middle of a cold winter afternoon in Ithaca, and the Moving Box executives are getting dirty.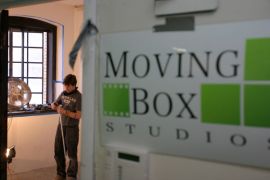 Inside their studio, Joe Zohar '06 and Chris Davidson '07 are sweating as they heave a filing cabinet. Dave Livingston is screwing down wiring, and Connor Shaw is sweeping up loose screws and dirt. There's sheet rock grime in the air and it sticks to their bare arms and the outside of their dust masks.
Zohar and Davidson graduated from Ithaca College with a mission: To create their own films and animations and to avoid becoming glorified coffee-boy-interns-with-titles on some film set in Hollywood.
"Go to L.A. if you like getting coffee for people for like 20 years," Davidson says.
Zohar, tucking long black hair behind his ears, agrees with Davidson.
"I didn't want to beg for scraps — that's what it was," he says. "There are a lot of really talented people out there who are going to be getting coffee for the next two years, because that's how it is."
So they teamed up with Shaw and Livingston, two young guys with business and construction know-how, and last August, officially created a vessel for their dreams — Moving Box Studios LLC — and a 1,700 square foot studio they're setting up now in Ithaca, N.Y.
Their recording studio equipment is in boxes on the floor, plywood is stacked in the corners and claymation sets are scattered across tables. Two HD video cameras are thoughtfully locked away. Like many of the company's animations and films, the place is a work-in-progress.
Two years after graduating, Davidson, a slightly goofy guy with a serious stare, is chipping spackle off the floor of his in-progress studio. He and the others work up to 60 hours a week. Glamorous? Not exactly. But these things take time, and he knows it.
"We're not thinking outside the box — we're making a new box," he says.
They started out with a studio in a basement with only a couple computers, their editing skills, a few zany animations and some serious ideas about upsetting the unbalanced teeter-totter of Hollywood's power.
The screening of their flagship animation, "Olympus Burger" — a 15-minute pilot about down-to-Earth Greek gods who work in a fast food joint — wasn't at a red carpet premiere, but in a Circle apartment, surrounded by several dozen of their screaming and clapping friends.
Since then, things sort of took off.
GETTING NOTICED
"Olympus Burger" won OurStage.com's June '07 award for Best Animation, and Davidson is now shopping it around to television networks.
Soon after, Video Maker Magazine named "Bacon Samurai" — a dramatic short created by junior employee Wright Rickman about a slice of bacon with a katana and serious attitude — the best animation in their 20th annual competition.
Current TV has hired them to work as independent video contractors. Two of their documentaries have been aired on the channel, which reaches 50 million homes, and there's a third doc in the pipeline.
"Current [TV] is so instrumental for our growth and exposure to a national audience," Zohar says.
Georgi Goldman, a manager with Current TV, says she likes the work Moving Box has done for her company because it expresses the voice of their target demographic.
"It's in their voice, their world and from their point of view," she says. "They've done a really good job, and they're pretty professional."
The company's videos have thousands of hits on YouTube, and they're among the top 10 most popular videos at influential animation sites like NewGrounds.com.
Next week, Zohar is being flown to California to shoot a commercial that will air during American Idol.
They're also working on two new departments of the company: HD Standing and Wedding Video HD, which they say will focus on a cinematic approach to weddings and high school sports.
BUILDING A STUDIO
Believe it or not, even with all these projects on the stovetop, it's actually their new studio that the company has focused most of its energy on.
It's a complicated undertaking. Davidson likes to call it an "all-media studio" with an emphasis on animation and film — and that's for short.
On the second floor of the
Community School of Music & Arts building downtown, they're constructing a combination green screen stage, recording studio, animation workshop and film production lab where they'll also operate a streaming video site and their own record label, Web site design firm and media services company.
Film production is nothing new for Ithaca. In the early 20th century the city was home to several large production companies, but the industry eventually moved to the warmer climate of the West Coast. Now most film students make the long trek to Los Angeles, the undisputed hub of the film industry, after graduation.
While what Moving Box is doing isn't exactly unique, what is unique is how they're doing it — by diversifying, staying in Ithaca to keep costs low and using the Internet to reach a huge audience.
While there are already a few established recording and video production studios in the area, the "all-in-one" strategy is what Davidson says will set Moving Box apart. That, and the Internet.
Zohar says most people watch their animations online.
"With distribution being as easy as it is, and the Internet being as beautiful a vehicle as it is to get your work out there, you don't need that old way of thinking," he says.
Shaw, a member of the executive board and the company's "business guru," puts down the filing cabinet he's hauling out of what will be an animation lab and wipes the sweat off his face and curly hair. Shaw's been in the TV business for a while — as a kid, he was an actor on the Disney Channel's show "Bug Juice." Now, he says, the business has changed and the Internet is giving them a shot at success.
"It's the 21st century rewriting of media, and what that means for a group of guys fresh out of school is that we can compete with the Hollywood bigwigs," he says. "We're part of the revolution, and we're building our field of dreams."
HOW IT STARTED
Fields of dreams don't plant themselves, though. It started as an idea between Zohar and Moving Box's marketing executive Chris Kusznir. The two, who have been friends and business partners since college, started working on their films in the basement of Zohar's old South Hill apartment. When the business got bigger, they moved to a studio space above The Commons.
They were already looking for a more permanent space when their lease was up last August. After taking out a few loans and taking on side jobs, they found private investors willing to take a risk on the young entrepreneurs with big ideas. And they found their new space, which is the biggest project they've ever undertaken.
"If you're serious about making films and contributing to cinema, you have to turn your life over [to] it and you've got to sacrifice and say, 'This isn't going to be fun right now,'" Zohar says, sitting on a couch in the exact space where their green screen studio — a technique used to place real actors in animated scenes — will be.
Livingston objected.
"But it is fun, man," he replied.
"Yeah, actually, you're right," Zohar says.
Before they can devote all their time to their own films and animations, though, they need money. For that, they've been outsourcing their talents to Current TV, Cornell University and local businesses and non-profits, making less-than-
Oscar-worthy video projects to make ends meet.
"I'm going insane shooting science videos for Cornell," says Matt Lenz '07, who works with Moving Box as an animator and videographer. "Right now we do a lot of freelance contract work. That's how we're able to make it."
NEXT GENERATION
But part of Moving Box's philosophy isn't just about making it themselves — they also want to help the next generation of students. So they've enlisted interns from the Roy H. Park School of Communications.
The company is fully accredited, and Davidson says they're
constantly looking for fresh talent. As he leads students in an Ithaca College animation class on a tour of the nascent studio this winter, he scoffs at the idea of the typical career route for cinema and photography
students and jokes about making zombie movies.
"You can really do whatever you want," he says. "If you don't know what you want to do with a project, pick something you want to learn about yourself."
Livingston — who's just as comfortable using a screw gun as a soundboard — promises their
company will be different. No coffee runs, unless they're voluntary.
"Sometimes I was like, 'Could you run to that place and grab my hard drive?" Livingston says. "But interns are given the opportunity to do what they actually want to do."
When Davidson asks if anyone would like to be an intern at the end of the tour, every hand shoots up. Every hand gets a business card, which are tucked into pockets like free candy.
Interns who have worked with Moving Box don't dispute the experience the studio partners promise.
Sahar Lichtman, a senior planned studies major focusing on animation, spent last summer as an intern at Moving Box, working on some of the company's major projects.
"They are really busy, so I had a lot of hands on work on their products, and I got a lot of production experience," he says.
Cathy Crane, assistant professor of cinema, photography and media arts, has watched the group, particularly her advisee Zohar, grow from passionate students to practicing professionals.
"Some kids come here and are really committed," she says. "[Zohar] just basically kicked ass, and he hasn't wavered."
After the student tour has gone, Livingston sits in the skeletal frame where his soundboard will soon be and reflects on Moving Box's future.
"What's great about our thing is we can provide opportunities for people," he says. "Now we get to teach other people, and one day they'll be opening a studio and bringing in new students."
Now, Moving Box Studios is moving ahead — they've finished initial renovations, and just last week the building inspector approved the electrical wiring, clearing the way for them to finish construction. The walls are painted, and Livingston is cutting holes in the ceiling for lights.
Even better, "Olympus Burger" is sitting on the desks of the producers of Adult Swim at Comedy Central, Davidson says. It's just a matter of time, he's sure.