Blame it on the 2012 Summer Olympics being hosted in London or Her Royal Highness' Diamond Jubilee festivities, but this fall's fashion forecast has a decidedly British flavor.
The key to mastering this season's look for both men and women is striking the balance between traditional and whimsical. Imagine an aesthetic cross between a traditional British dandy and a counterculture bohemian from Camden Town.
For women, having a keen focus on fabrics and prints is a great way to kick start your fall wardrobe. Emily Finegan, online store manager for popular Ithaca boutique Petrune, said the store integrates these elements for the changing of seasons.
"For fall, we always bring out our plaids and darker, more elaborate patterns," she said. "We're looking forward to bringing out richer, more textured materials like wool and velvet."
New York City-based fashion bloggers and sister duo Rachel and Nicole Effendy of the blog "Rachel et Nicole" are loyal supporters of the patterned trend.
"We love prints! We wish we could be the poster children of prints," Rachel said. "Amongst our faves [this season] are Nicole Miller's and Prabal Gurung's."
From leopard to baroque scrolls, prints are ubiquitous this fall. Floral prints are especially prominent. Add a touch of garden-party whimsy to fall fashion with easy pieces like floral jeans or sheer blouses.
Print mixing is not for the faint of heart, but when done correctly, it can be a witty observation of the season's trend.
Nicole said though she and her sister love to mix prints, it can be tricky to pull off.
"Always be sure to have a slightly less complicated print over a more intricate one," she said. "This way, it will look like the New York Botanical Gardens sprinkled its fairy dust on you."
With crazy accents like prints and leather, keep your silhouettes tailored and streamlined. Manage your proportions according to fit and cut — a short skirt may call for a more loosely fitted blouse.
Conversely, a peplum — one of the season's hottest shapes, consisting of a mini skirt attached to either another skirt or a shirt — calls for a more fitted top and sleek pants.
Katie Spallone, the owner of Avanti! and Evolution 102, both located on The Commons, said her boutiques will have a more simplistic approach to prints this season.
"We do much more with texture and solid colors than with prints," she said. "I have to say, however, that stripes are going to be huge, especially in knit tops and sweaters."
Spallone also said that leather is undoubtedly one of season's hottest trends. While the traditional leather bomber or motorcycle jacket has long been a favorite, dare to try a pair of leather shorts or a leather dress.
Mixed media leather pieces, like leggings with leather accents or jackets with leather trim or paneling are also trendy options this fall. Jenni Zellner, who co-edits the fashion blog "Chronostyle," said she supports the leather paneling trend.
"I especially like the way designers have been experimenting with simple touches of leather because it still has a badass feel, but doesn't go overboard," she said. "It definitely caters to the fashion lover caught in a corporate environment, and is a great way to bring luxury to a simple outfit."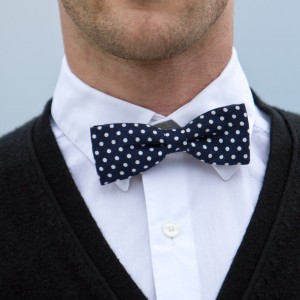 Zellner's blog co-editor, Lyle Hawthorne, said he knows how easy it is to go overboard with a trend. His advice: Stick to your gut.
"The question that people usually struggle with is, 'How much leather should I wear?' This is a difficult question because in fashion, well, there really are no rules," he said. "If you can pull it off and look fly, do it! But in general, I would leave the 100 percent leather ensembles at home."
To avoid the biker look, keep the outfit grounded with the right proportion of edgy and practical. Wearing a short leather skirt? Pair it with black tights, sensible shoes and a neutral blouse or sweater to sweeten the toughness.
The most popular shoes of the season are smoking slippers and loafers, a definite nod to British prep style. Look for smoking slippers with whimsical detailing, like studs or brightly colored piping. Pair with an envelope clutch or cross-body satchel for day-to-night style.
For men, this season is especially all about the well-dressed gentleman. Channel the quintessential British dandy Beau Brummel and add prints to a basic wardrobe with accent pieces like a daringly printed bow tie or a collared shirt in a shocking hue.
Pedro Maldonado, president of HiFashion Studios, Ithaca College's fashion organization, is excited to say that the "dandy" is back this season.
"We have returned to an age where men want to look respectful and look like gentlemen," he said. "It's that Beatles look, English gentlemen and Donald Draper look that is becoming so popular."
Maldonado said tailored cuts paired with whimsical touches and unexpected pops of color are the go-to look for the fall.
"Men's cuts are slimmer and better fitted, so a man can look like a well-dressed man," he said. "I also feel that textures have made it more important — we see a lot more cottons and wools, natural and soft textures."
If bright colors are out of the comfort zone, settle for British sensibility with well-made sweaters and slim fit pants. Blazers paired with band t-shirts, Member's Only jackets, cuffed jeans and rakish hair are easy to wear and just as representative of British youth culture.
Above all, Zellner said to wear this season's clothing with an insouciant attitude and a cheekiness characteristic of those across the pond.
"The Brits have a way of embodying a style of fashion that is eclectic and innovative," she said. "Any fashion lover should look to their history and culture for inspiration this season."
Want more fashion tips from Cady Lang? Check out her blog.