Antique cowbells clang when the front door to the shop is opened. A cart full of freshly baked breads and exquisite cakes greets customers while the smell of cappuccino fills the air. The walls are painted with rich yellows and deep reds and decorated with an array of artwork from rolling fields and colorful vineyards to a series of striking black-and-white photographs.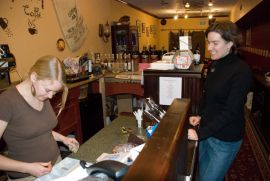 The ambience is part of why Brötchen, a Viennese Kaffeehaus, has been well received by the community since opening in late November. Brötchen is more than the average coffee shop — it's a bakery, a deli and a fine European restaurant.
While sandwiches and fresh Viennese coffee are always available, the specialties menu changes daily and the dishes are anything but common. One Saturday, the menu included herb-spiced pork tenderloin with prosciutto wrapped brussel sprouts or Moroccan fish stew with mahi mahi, shrimp, mussels, beans and exotic spices. Two glass cases are filled with gourmet sweets like dark chocolate, black forest cherry truffles and white chocolate covered pretzels.
Philip Nahernack, a junior at Cornell University, said every time he is down on The Commons he stops by Brötchen to get a finger sandwich.
"I was pleasantly surprised to see a place like this open up on the Commons," he said.
The man behind the business is Michael Horzing. Horzing started cooking when he was 6 years old at home in Austria with his grandfather, who was a master chef. Horzing attended culinary school in Vienna and continued his education in Rome.
He was later led to Florida, where he worked as a chef at Disney World's Epcot Center. But the job did not satisfy his desire to create original dishes.
"I had no creative freedom at Disney," he said. "I had to cook exactly what they said to cook, and that was that."
About 10 years ago, Horzing was on vacation and happened to drive through Ithaca. He liked it so much he decided to pack up and move here, he said. For a while he worked small catering venues until he decided he wanted to get back into the restaurant business.
It's easy to tell Horzing is dedicated to the shop and has a firm hold on all its operations: He is the owner and also the only chef. He will take orders, head back to the kitchen to prepare dishes, serve them and then clear off the tables after they're empty.
Horzing said he has tapped into a desired market in town.
"There's a lot of Italian and Chinese restaurants around," he said. "I wanted to offer something new, something like a traditional Viennese coffee house where people could come and have a European experience."
Local coffeehouse staple Juna's Café closed on The Commons last week, but Horzing is not concerned about Brötchen losing any business to big-name competitors like Starbucks. He said he has a different clientele. His customers are looking for more than just a cup of coffee: They're looking for a European experience.
Brötchen received exposure during Ithaca's Chilifest competition last month, when it won the award for best presentation. Horzing featured chili with Belgian chocolate, served with marbled cornbread and orange-spiced cinnamon.
KelLee Rich, a senior at Ithaca College who works at Brötchen, said she enjoys everything at the Kaffeehaus but recommends the lemon-berry cake and the Rugelach, a type of pastry. Horzing's recommendations include his Austrian-Hungarian Goulash and the Wiener schnitzel.
Freshman Alex Barbone visited the store for the first time Tuesday and ordered a slice of the marbled cheesecake with raspberry sauce.
"I've been eating campus food for so long this makes me feel like I'm on vacation," she said. "The presentation alone is terrific."
Brötchen is located at 128 E. State St. The shop is closed Sundays.