Imagine indulging in the delicacy of sushi without breaking the bank, counting carbs or fidgeting with chopsticks. Inside a small dim-lit vegan café just off The Commons, diners can order rice-less sushi, a naturally blended Green Smoothie or a taco salad for a delightful afternoon pick-me-up.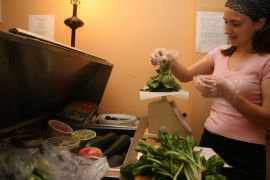 Everything Wellness, located at 118 South Cayuga Street, is a hidden treasure that makes it evident the raw food fad is not just for starving celebrities. This cozy vegan restaurant — meaning no meat, no dairy — uses entirely organic ingredients from local farmers through GreenStar Cooperative and the Farmer's Market.
Everything Wellness ensures that each ingredient is fresh and everything on the menu is made on the premises, with the exception of the tortillas. Smoothies are made with almond milk, which is soaked, blended and strained by the restaurant's employees. Unlike the restaurant's neighboring pizza places, Everything Wellness offers diners an ample amount of fruits and veggies — and more breathing room.
The restaurant has two menus, one with lunch and dinner items and the other menu containing items from the juice bar. The dinner menu differs daily with specials prepared the previous day.
Ashtarra Brissette, Everything Wellness' owner, said employees work on preparing food for at least five hours each day prior to opening.
"We're always doing the prep work," Brissette said. "We've had cakes that take three or four hours to make."
No dish can be cooked above 115 degrees, making meals such as spaghetti and "neat balls," faux meatballs made from sunflower and pumpkin seeds, much more complex than the traditional meat counterpart.
Brissette said the "neat balls" must be dehydrated for four hours at raw temperature.
"The food still has a cooked consistency, but it's done at a lower temperature so that enzymes are maintained," Brissette said.
The soaked ingredients are known as "living foods."
Brissette has been a vegan for 10 years and a vegetarian for 30. She was originally drawn to the vegan and raw food diet because she wanted to receive more nutrition from plant-based foods. She said the raw food movement also promotes emotional and physical well-being.
"It makes a person much more aware of what they're eating," Brissette said. "What things have additives in them, what things don't."
Brissette opened Everything Wellness to promote the raw movement, which she also describes as a "peace movement" because of its stance against misusing natural resources and animals. The café hopes to prove that eating healthy and helping the environment is not only attainable, but also mouthwatering and delicious.
"You can live healthier, and you don't necessarily have to sacrifice," she said. "It's a model that you can eat well and you can enjoy it."
Amanda Jones, an employee who recently joined the Everything Wellness staff, is a vegan and partially follows the raw food diet.
"Being a vegan is the easiest way to be an activist," Jones said. "It's pretty wild."
Jones started working at the quaint vegan café because the job suited her lifestyle.
"We all share tips [left by customers] here because we believe that everyone is equally working as hard," Jones said. "It's not one woman for herself."
She adheres to the vegan diet because of her respect for animals, her health and the environment.
Julia Lapp, assistant professor of health promotion and physical education, is a pescatarian, someone who eats fish but not other animal meat. Lapp said she has experimented with a number of diets throughout the years and feels best eating dairy and fish. While she appreciates Everything Wellness' cause, Lapp said she does not necessarily promote the lifestyle choice to eat raw.
"You're providing a good service in that it is a place you can go to get healthy food," Lapp said, "but, I say eat a variety of raw and cooked. It's better to eat your tomatoes cooked because they become more bioactive when heated."
Brissette said natural food leaves customers feeling energized.
"People don't have to be 100 percent raw to benefit from the café," she said.
Check out Everything Wellness online at www.everythingwellness.net