Junior Ellis Williams often carries Betty White between classes, waving to passersby as he strolls along the sidewalks of Ithaca College.
He isn't toting around the "Golden Girls" star, but rather his large, gold Lasonic-931 boom box, Betty, playing music for everyone to hear.
Freshman Sierra Council smiled when she first heard him on the academic quad last Friday.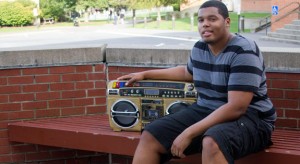 "It's so Ellis," she said. "He's a big guy with a big boom box."
Williams noticed headphones were increasing in size and popularity among the student body and decided he wanted to share his music. After getting the boom box as a gift on Valentine's Day, Williams decided to start carrying it on the first sunny day in spring of last year.
"I felt like music was becoming an individualistic experience," he said. "What I aim to do is to disrupt that."
Williams roams the campus at least a couple of times a day with his boom box. The flashy gold box has plenty of colorful buttons and knobs, but Williams decided to name it after a dainty, classic woman.
"My friends wanted me to name her 'Magnum,' but I thought that was too vulgar," he said. "Since she's my golden girl, I thought 'Betty White' was only appropriate."
While Williams blared "Nothin' On You" by B.o.B featuring Bruno Mars on Friday, the welcoming responses began to flow in. As a friend came into sight, Williams began to groove toward him, striking a pose every now and then. He stopped and stretched out Superman style, boom box still in hand.
"People stop me to ask me about a song or artist because they like that, particularly on Fridays," he said. "I feel like I'm doing something right."
Williams has come to be known across campus as "the kid with the boom box." He gets nods of recognition from students he passes, some singing along to the song he's playing.
Music has played a large role in his life, whether the boom box was by his side or not.
"When I was 11, my grandfather would pick me up from middle school, and he would play a lot of funk and soul," he said. "That was the foundation. Then my mother would clean up on Sundays with the Princes and Black Street playing. I was surrounded."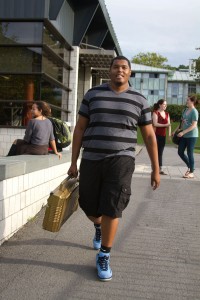 Though he plays many genres of music, Williams likes to stick to hip-hop and R&B from different eras. Oftentimes his boom box will bellow music by artists such as Michael Jackson, Rick James, Notorious B.I.G. and Tupac. But if he had to choose his favorite artists, Williams said he finds himself unable to settle on just one.
"First I'd have to go with the Temptations," he said. "Then Michael Jackson. For the '90s, I definitely have to go with Tupac, and then 2011, I'd have to say Kanye West and Jay-Z. Most of the time I start my day off with 'Otis.'"
As he continued to blast his favorite jams, turning into the Lower Quad near Eastman Hall, Williams crossed the bridge and passed sophomore Rachel Gropper, who was sitting on the railing while talking on the phone.
"I hope I'm not interrupting your conversation," Williams said.
Gropper shook her head with a smile and said, "Don't worry about it. I was just telling my mom about you."
When he isn't strolling the sidewalks with Betty, Williams is busy with his major in television-radio and three minors: African diaspora, scriptwriting and speech communication. While education remains significant to Williams, he is also involved on campus as the Brothers 4 Brothers co-president, a junior class senator on the Student Government Association and a member of the Urban Mentorship Initiative. He hopes to have future involvement with the South Side Community Center, WICB and ICTV.
Going on their third year with Brothers 4 Brothers, Williams and junior Tom Ransom have taken the reigns as the newly inducted co-presidents. Ransom said he was one of the first people to hear Williams with his boom box.
"Last March he told me to look out for him on Monday," Ransom said. "I asked why, but he just said to just wait. I was wearing my big headphones while walking to class and all of a sudden I heard this bumping over my own music. I heard Ellis before I saw him."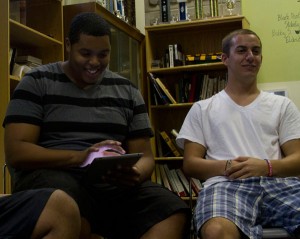 Williams has started bringing his music to Brothers 4 Brothers meetings, too. Before the meeting begins, members pass the boom box around and change the song on the iPod docked into the middle of the counsel. Though battery-operated and portable, Williams makes sure to plug in the boom box before everyone settles down — lose power, lose the groove.
Both Williams and Ransom are looking to efficiently create a close-knit community with the male students involved.
Hoping that someday his efforts and hard work will pay off, Williams dreams of becoming the first black host of the "Tonight Show." But he still debates whether his boom box will be in hand alongside his briefcase while commuting to his future job. He smirked at the thought.
"If society was ready for that," he said.
To send a song request to Williams on Fridays, tweet him @blakonciousness with the hashtag #boomboxfridays.
Top 5 Playlist
1) "Otis" by Kanye West and Jay-Z
2) "Live This Life" by Big Sean
3) "Casanova" by Levert
4) "I Like" by Guy
5) "On Our Own" by Bobby Brown