Senior Meghan Leary goes to Mass at her home parish about 30 minutes away every Sunday with her family. She has been to almost every Mass at her church since she was 5 years old. But in all her years practicing the faith, she never found a reason to be confirmed, until now.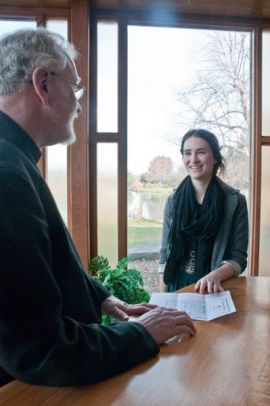 She said she always planned to be confirmed, but after hearing her family is adopting a baby, she wanted to jump-start the process in order to become a godparent.
"It's obviously not the only reason to be confirmed, but it's what encouraged me to do it now rather than six months from now when I am at home," she said.
Confirmation is one of the three sacraments of initiation — baptism, First Communion and confirmation — for Catholics, where a member of the church confirms his or her faith and is reinforced by the Holy Spirit.
Junior Christine Evans considers herself to be more spiritual than religious. Though she doesn't attend Mass every Sunday, she plans to declare her faith at her confirmation this Monday.
"I still have my faith even if I don't go to church every Sunday," she said.
Leary and Evans are two of three Catholic students at the college who will receive the sacrament of confirmation Monday at St. Catherine of Siena Parish. The ceremony, which takes place during Mass, is meant to mark their assimilation as adult members into the church.
Father Carsten Martensen, Catholic chaplain at the college, said the ceremony is one of the sacraments, or rites of passage, in the Catholic religion that is meant to symbolize a person's growth in faith.
Martensen said most members of the Catholic Church are encouraged to receive confirmation in their early teen years before they graduate high school.
"Many of the students in our Catholic community confirmed their faith when they were younger, in high school or even in eighth grade," he said.
A new baby on the way got Evans thinking about her faith. Evans said she plans to be a counselor and role model for her niece, and in order to do that she said she must also be confirmed.
"It was a good motivation to finally get me up off my butt and go to it," she said. "[I] realized this is something that is an important part of my life, but I haven't been prioritizing it properly."
Leary said she never received confirmation in school because of family conflicts.
"It was a really busy time for my family," she said. "My parents were getting divorced, and we were moving at the time. We were just focused on other things."
Freshman Rodrigo Ugarte originally intended to be confirmed with the other students but decided to postpone the event until Easter, when his family could be present for the ceremony.
"My mom can't financially come here for the weekend," he said. "She also wants more family to come, and on such short notice, they won't be able to."
This is not the first time Ugarte has had to change his plans for confirmation. His family planned for him to receive the sacrament when he was 12, like the rest of his community, but at the time, his family was moving to the United States from Peru.
"When we moved here, there were other things to worry about, like us becoming citizens," he said. "There were things that took greater priority."
After arriving at the college, Ugarte said he saw the new atmosphere as the perfect place to reaffirm his faith.
"I just feel like that's also kind of a way to begin anew, like a fresh start."
Leary said choosing to reinforce her faith in college has been about realizing what is important to her.
"Too often, we stick with our religion because it's what we grew up with, but when college students make a conscious choice to be a part of that, [their faith] is what's important," she said.
Evans attended a Catholic grade school that held confirmation, but she decided not to participate because she said she felt forced.
"I looked at it as they were making us get confirmed," she said. "I thought confirmation meant that you were committing to your faith and acknowledging that you were becoming an adult, so I put it off."
Evans said she often finds it difficult living on a liberal campus where religion is not a priority to motivate herself to be involved in the church during school.
"It sounds cliché, but it's an inner battle," she said. "I wake up every Sunday saying that I am going to go [to church], and then I don't for one reason or another, because life gets in the way."
Unlike the other churches she belonged to in the past, Evans said she feels more comfortable at Muller Chapel, another reason that she wanted to be confirmed with members of the college's Catholic community.
"The congregation is all my age, [and] being with other people that are the same religion [and] the same age as you is a lot more welcoming," she said.
Evans said she hopes getting confirmed will help her make church a top priority while she is at school.
"It's motivating me to be more active in the church and lead a better lifestyle," she said. "I am trying to get back into that habit."
Martensen said what is truly important about confirmation is that people are committed to making faith a part of their life, no matter how old they are.
Evans said having her faith in college has been important because it has helped her conquer challenges in her life.
"[Faith] helps to take things in and realize there are greater things than what's going on in the moment that feels so horrible," she said.