In a stuffy shed with an uneven floor, surrounded by tubes of colored glass, Martin Whitford carefully uses a 3,500-degree torch to heat a glob of melting glass. After color is added and the glass cools, the piece will go to Ithaca's Glass, the store Whitford shares with his wife, Lyssa, and friend Tim Merrill on The Ithaca Commons.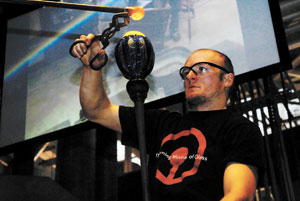 Whitford, an Elmira, N.Y., native, said he used to shy away from artistic things. Nearly a decade ago, however, Whitford helped friends move into a glass studio and came away with a new love.
"I fell into it," Whitford said. "The first time I turned on the torch, I was hooked."
Since then, Whitford has become a locally known flame-worker. Unlike glass blowing, which is usually used to make large items, flame-work is a small-scale glass-working procedure. Flame working is perfect for Whitford, he said, since he makes pipes. While Whitford fell into glassmaking, Lyssa Hayes said glass is in her blood.
"[My uncle] traveled to Europe and collected art glass," she said. "He even went to see private collections there. As a child, I would fly to his house in Vancouver, Wash., and see his art collection … He was always talking to me about glass."
Whitford and Hayes aren't the only glass enthusiasts in Ithaca, or central New York. From Corning, N.Y. — which gained national fame for its glass collection — to Ithaca's own downtown, glass artisans share a love for the delicate material.
The history of glass in Ithaca and the surrounding areas began with Amory Houghton Sr., a businessman from Brooklyn, N.Y. Houghton owned Union Glass Works and Cate & Phillip, two small glass businesses, and decided to base his companies in Corning in 1868, changing their names to Corning Glass Works (now Corning Inc.). Corning Inc. is now one of the largest glass-making businesses in the world.
The Corning Museum of Glass was founded in 1950 and is the world's largest glass museum, with more than 45,000 objects spanning 35 centuries. Yvette Sterbenk, communications manager at the museum, said the museum's popularity continues to grow and its glass working demonstrations are a major attraction.
"We attracted 375,000 people in 2007 and 340,000 in 2006," Sterbenk said. "We're seeing a continued increase because of our programs. Our studio is a great place for people to learn about the glass-working process."
When Whitford came to Ithaca nine years ago, he said he only knew a few people who worked with glass. Since then, he has seen the artisan population grow.
"Over the past 10 years, I've seen a 100 to 200 percent increase in the number of people who [work with glass here], not to mention the rest of the country," he said.
Whitford said he enjoys the community of glass workers around him.
"A lot of people bounce ideas off each other and play with different ideas and work together," he said.
Robin Schwartz, the program director of the Community Arts Partnership, said there are many artists in Ithaca, some discovered and others unknown.
"I have 800 artists in my database and I'm sure I don't have every one of them," Schwartz said.
Jennifer Kimball, an Ithaca resident who co-owns Pyrosglass.com with her husband Paul, a glass artisan, said her husband got interested in working with glass after he started collecting antique paperweights. Paul Kimball has since invented a new way to make glass objects.
"Paul is very interested in trying to understand early glassmakers' processes and incorporating them into modern glass art," she said.
Paul Kimball, whose glass art is sold around the world, invented Freeze and Fuse, a process that involves freezing powdered glass and water. After the glass is frozen, the craftsman can put it in a kiln until it becomes a solid piece of glass.
"It's a process that almost anyone can learn," Jennifer Kimball said. "It's glass making for every man, for the rest of us."
Ithaca may be home to a large population of artists, but Jennifer Kimball said selling pieces locally can difficult.
"[Ithaca] is definitely a great place to be as an artist because there are so many artists here," she said. "[But] most artists find that to sell their art they need to look elsewhere."
Jennifer Kimball said she and Paul try to support and engage their fellow artisans by holding craft shows in the area.
Whitford said he believes Ithaca's appeal is the beautiful area and accepting community that keeps ideas thriving.
"I love looking around here and seeing the waterfalls," he said. "Ithaca is a pretty liberal area where they essentially let you do what you want to do and that's always a plus."
Lyssa Hayes said it's the atmosphere.
"We have a lot of stores selling glass in Ithaca," she said. "It's the community — it's so chill, and we're comfortable here. And Corning is so close, it's easy to take classes there. People see glass working and want to do it."
For Whitford, glass working is not so much about the money as it is the magic.
"To be able to set something on fire and make something in the end, that's just amazing," he said. "You're almost a magician."