According to her résumé, freshman Samantha Towle is a double major in cinema and photography and psychology, a Park Scholar, an SPCA volunteer, a member of The Harry Potter Alliance and a writer for Buzzsaw Magazine. According to CollegeHumor, she's a slacker.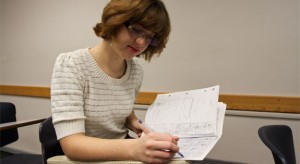 In January, CollegeHumor and CourseSmart launched the America's Smartest Slacker essay contest. More than 300 students shared their most creative academic shortcuts for a chance to win $1,000, an animated video on CollegeHumor's website and a year's supply of free eTextbooks from CourseSmart. A month after submitting her essay about turning her class notes into comic strips, Towle won a new title: America's Smartest Slacker.
The animated video runs just over a minute long. It tells Towle's story about struggling to get good grades in her high school honors calculus class until inspiration struck, and she turned the equations she couldn't memorize into fun stories and pictures she wouldn't forget.
Towle, fan of CollegeHumor, said she found the contest while surfing the site over winter break and entered on a whim, not expecting to win.
Rachel Daily, a junior account executive at CollegeHumor, arranged the contest between CourseSmart and CollegeHumor. She said Towle's entry won because it was both fun and academic.
"Her story was entertaining, but at the same time it wasn't anything too slacker," she said. "She actually did really well in the course, and it was a little more wholesome across the board. She hit all the points across for our audience and CourseSmart."
Towle took her inspiration from "Fantastic Bob," a superhero her older brother created in his assignment book to "defeat" his homework. Soon Towle had developed rhymes, song parodies and even turned her teacher into a superhero.
Towle keeps most of the comic notes she takes, except for the ones she loans to friends. Towle said she shared her notes and used them when she tutored students in calculus after the class ended. She said it helps students like her, who don't like math, learn in a way that works for them.
"They were more creative than mathematical, so things like drawings and songs helped them learn in their own way," Towle said.
As her courses became more difficult, Towle used the doodles to help understand the work. She still remembers the day she drew a quail in class, needing to remember to add "QED" to the end of her calculus equations. Or, for Towle, a quail, an eagle and a dog.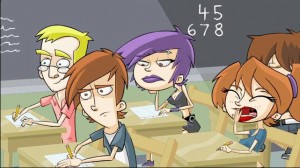 Towle still uses her slacker technique in most of her classes at Ithaca College. She said drawing comics helped her pass her "Hollywood and American Film" midterm.
"Sometimes I just can't actually take sentence notes, and so I have a whole bunch of pages where it's just my doodles instead of notes," she said. "When I took the midterm, … the things I got wrong were the things I had written out, because I didn't remember them as much."
Carla Golden, a professor of psychology,  teaches Towle in her honors seminar this semester. She said Towle is a serious student who does well in class. Golden was surprised by the contest win and was excited to hear more about Towle's art.
"It's a great video," she said. "If she's doodling in my class, which she might be, I want to see every one of the doodles. They've got to be great because the course is called Sex, Gender and Desire."
Towle said she was excited to have a CollegeHumor video posted about something in her life and spent a lot of time thinking about what the video would be like before she saw it. Though the video's punk main character with an eyebrow piercing and exposed navel looks nothing like her poised and fresh-faced counterpart, Towle said she still enjoyed the video and
its message.

"They kind of knew what I looked like, but they kind of discarded that and said, 'Let's make her a punk rocker,'" she said. "It fits their image, and I don't mind. The main point of the story is that I'm not someone who would excel in calculus, and neither is that girl."
Despite her passion for in-class drawing, Towle hasn't been in an official art class since middle school. Even though she knew she wanted to major in psychology and cinema, she does keep a collection of Foxtrot, her favorite comic strip.
Towle said she will use the money she won to replenish the funds she spent buying necessities for her major. In spite of that, she said she went shopping when she won, even though she has yet to receive the money.
"As soon as I found out I won, I did go on a bit of a shopping spree," she said. "I didn't spend that much — I went to Urban [Outfitters] and then I went to Purity Ice Cream."
Towle said she doesn't usually consider herself a slacker, but whether or not her new title is true depends on the connotation.
"Technically, someone who's doodling in class instead of taking notes is kind of slacking, but they're slacking in a smart way that may even be better than taking notes in a conventional way," she said.
See the video at www.collegehumor.com/video/6457992/coursesmart-presents-americas-smartest-slacker