A group of dancers move to electronic beats on the wooden floor of the dance studio in the Fitness Center. One, in a beanie, practices extending his legs toward the ceiling and supporting his body with one arm and freezing in position.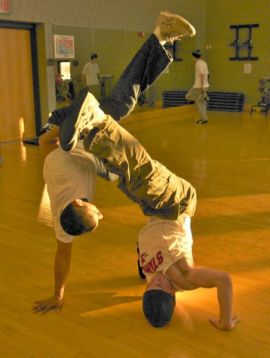 Break IC, a breakdancing showcase from nine different colleges across the state, was held on April 18 in Emerson Suites.
The group is preparing for "Break IC," a breakdancing showcase to be held at Ithaca College on Friday. It is a follow-up to last year's competition and is a collaboration of IC Breakers and the Asian Culture Club.
The event will feature breakdancers — also known as breakers — from nine different colleges around New York state competing in two-versus-two person battles. The winners will receive a $150 gift card to Best Buy.
Krissy Roth, a member of IC Breakers, has been breaking for about a year. She said she is excited to see people's reactions to how improved the event will be in comparison to last April's showcase.
"There are just a lot of unique breakers with diverse skills within the battle because everyone is coming from different locations, so there will be different styles," Roth said.
The event will feature performances by Cornell's taiko drum team, Yamatai. It will also feature Hokuto 'Hok' Konishi, a former contestant from the Fox show, "So You Think You Can Dance?" Konishi has four dancers who make up his crew called "Quest:" Ryan Conferido, Steve Terada, Lydia Paek and Victor Kim.
Yamatai's Japanese drum team will open the event with a 20-minute act. The first of two-on-two battles before elimination will follow.
Quest is a multi-talented group brought by the Asian Culture Club. It will perform four sets including breakdancing, piano, guitar and freestyle to display individual talents.
Whitney Kaiser, external communications liaison for the Asian Culture Club, found Konishi's team on MySpace. She said the event is about promoting modern aspects of Asian American culture.
"Four out of the five members of Quest are Asian, so I thought it fit really well," she said.
Breakdancing as a sport is made up of three elements: top rock, floor work and power moves. Top rock is what the dancer does on his or her feet. Floor work uses all four limbs, and power moves feature the acrobatics.
Olivier Massabni, co-president of IC Breakers, said groups outside campus are becoming familiar with the IC Breakers and are more inclined to compete. In addition to the battles, he said, the Japanese drumming and performances by Quest are creating added anticipation.
"Spectators are going to see really intense acrobatics and contortion," Massabni said. "They're going to see people do things that they didn't even know were possible."
The breakers gather to work on their skills two times a week. There are about 20 dedicated members of IC Breakers.
"At first, people were discouraged," Massabni said. "But recently I noticed a lot of people have stayed and learned a lot of things they never thought they could do."
Ian Turner, co-president of IC Breakers, plans to use both improvisation and choreography to synchronize his performance with his partner and gain points for skill and creativity.
"It's important to be creative by balancing the strengths of different dancers," Turner said. "There is still a lot of improvisation, you want to be able to flow, adapt to change and accent the music with timing."
Massabni said choreography is an important strategy to win the battle.
"Because it's two on two, there's definitely more emphasis on choreography," he said. "You can definitely have a better chance at winning."
The board members of IC Breakers hope to produce an improved, successful event to impress the audience.
"I'm happy that the event is bigger this year, because it makes me feel like I have accomplished more," Massabni said. "I generally want it to be a good show and that's my main goal — that the spectators enjoy it."
"Break IC" will be held at 6 p.m. tomorrow in Emerson Suites. Tickets are $5 or $7 at the door.