After his wife was diagnosed with cancer in 2008, Ed Vorbach worked to keep life as normal as possible for his son, who was a senior in high school. His wife would win her battle the following summer, but the family was far from done with the disease.
Two days after his high school graduation in 2009, Ed's 17-year-old son began cancer treatment. Though the family's experience helped them know what to do when Kyle Vorbach was diagnosed, Ed said hearing the news about his son was hard because he was so young.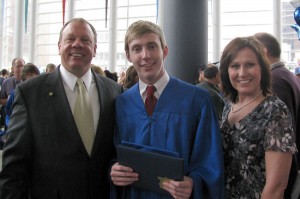 "If I were to go tomorrow, I've lived a full life," he said. "Kyle was 17 when he got cancer. When you're 17 years old, you haven't had a chance to even live."
After chemotherapy and surgery, Kyle, now a first-semester freshman at Ithaca College, has a low risk of relapse. With both his wife and his son in remission, Ed said he can step back and take a breath of relief, but he can't leave cancer behind.
Ed now works with Wings Flights of Hope, a nonprofit that brings volunteer pilots together to help medical patients get treatment regardless of where they live. Though he attended SUNY-Cortland to become a science teacher and later went on to own part of Next Step U, a college preparatory magazine, Ed said he always wanted to become a pilot. He got the inspiration to attend flight school from a keyboard player he met playing in a band.
Joseph DeMarco, founder and volunteer pilot for Wings Flights of Hope, said volunteers use their own planes and the organization refunds the pilots for fuel. About 25 pilots volunteer for the organization in the western New York area, and thousands volunteer across the country. They sponsor about one mission per day.
"Hope is what we give to a lot of people," he said. "In their region they're told there's not much that can be done for them, so we take them wherever they need to go to get a second, third, fourth opinion — whatever it might be."
Recently, Ed flew a young family to their 1-year-old daughter's cancer treatment. The last time the couple drove from Cincinnati, Ohio, to New York for their child, they blew the transmission in their truck and couldn't pay to replace it.
"I'm 52, I remember what it's like starting out — it's tough," he said. "When something like cancer lands on your head and they don't have the resources to get the treatments they need for the people they love, that's the most satisfying thing — I'm helping them out."
Ed said his 23 years in the military gave him the sense of duty that drives him to help people.
"You have to stand up. Whether it's cancer or other things in this world, you have to stand up for something, and I stood up as a solider, that's ancient history, I've been retired for years," he said. "Now I'm going to stand up and do this."
During the summer after Kyle's senior year, it became obvious he would not be healthy enough to attend college in the fall. Ed said the family was worried Kyle wouldn't be able to adjust to college life so late in the year, but the admissions staff set their minds at ease. Bryan Roberts, assistant dean for student services in the Park School of Communications, said he wanted to make Kyle's transition as easy as possible.
"He's an exceptional young man, and it helps put all of our issues in perspective," Roberts said. "When we think we've had a bad day, you look at someone like this, someone who's endured so much with the love and support of his family — it's really inspiring."
Kyle said it was difficult to make new friends when most of his class had already established their social groups. His battle with cancer gave him a different perspective on personal health than some of his peers.
"The majority of my semester was at first spent working very hard, then realizing and looking around and thinking 'Good God, these people treat their bodies so badly'," he said.
Kyle said it is important for people to value every second they have.
"Even if it's waiting in line for a milkshake at late night and you're late and you're angry, just think about the fact that you're alive — that's a really cool thing," he said.
Earlier this semester, Ed was invited to speak at Relay for Life, held by the Ithaca chapter of Colleges Against Cancer. He said being a part of the event was both an honor and a way to find closure. During the luminaria ceremony, a time when relay participants walk around a dark track lined with candlelit bags to honor the loved ones they've lost to cancer, Ed and his wife walked hand-in-hand for 12 laps, one for each year they dealt with the disease.
"My wife and I are just now trying to pull the pieces back together again," he said. "We put everything on the hold for her and even more so with Kyle, so we're just starting to go 'Wow, we can take a breath and look at the world'."