A symphony of sound can be heard every weekday in the late afternoon and early evening downtown at the Community School of Music and Arts. The school is alive with the energy of an art class studying next door to a student taking a voice lesson, all while a local artist prepares for the next gallery opening in the hallway.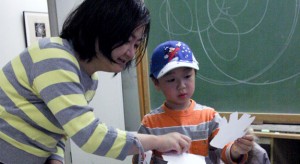 The non-profit is celebrating its 50th anniversary this month. Offering private music lessons, ballet for toddlers and figure drawing for adults, it's a school focused on artistic activity, Robin Tropper-Herbel, executive director of CSMA, said.
"We're a hub for activity where people who live in town and people from both college communities can cross paths and nurture each others' interests in the arts," she said.
Eunice and Clayton Weber founded the school in 1960 as the Ithaca Community Music School, focused on children's classes. The organization expanded its charter in 1976 to include other arts. The school has had several locations and has grown tremendously in the 50 years since the days of offering just a small music kindergarten, Tropper-Herbel said.
"We're so pleased that it's continued to grow," she said. "We decided to commemorate the 50th anniversary throughout this academic year so we could celebrate for longer."
Senior Caitlin Henning teaches the Music and Movement class for 3- and 4-year-olds. She said CSMA is an invaluable part of the community.
"Ithaca wouldn't be the same without it," she said. "There's just so many opportunities for young people and adults to participate in the arts. Every community really needs to have an outlet for the arts, and CSMA caters to what the community is looking for."
CSMA offers classes in theater, dance, art and music, and through its Arts for All Marathon event every fall, CSMA raises scholarship money for those who can't afford the class fees. For non-members, classes cost anywhere from $40 to $300, depending on the materials, teacher or level of the class.
Jennifer Haywood, associate professor of music education, has worked with CSMA and the Ithaca Children's Choir since 1991. She said it is a chance to have arts experiences that support the work of public schools.
"This is an additional opportunity for those who want even more music-making than they're already getting in their weekly activities at school," she said.
Lucas Finn, 12, took lessons in classical piano at CSMA and participated in the  organization's jazz institute over the summer. He said much of what he knows is from CSMA.
"[The jazz institute] really helped me with being courageous about improvising," he said. "I am pretty shy usually so that's helped me let myself out and improvise a lot and learn about different styles of jazz."
Some of the classes in the upcoming semester include Expressive Acrylics and Oils, Drumming for Belly Dancing, Creative Dance for Children, 3D Creature Creation and
Expressive Watercolor for Kids.
CSMA is also a resource for other arts groups. The school opens up its space as a venue for theater groups, bands and even individuals wanting to hold an event there. Tropper-Herbel said Ithaca has always embraced the local arts and CSMA.
"The community is so unique in its real love of the arts," she said. "There's a real need, and without CSMA I don't know where else people would go in one location where so many different people can participate."
Sophomore Kacey Scanlon will begin teaching children's ballet classes in the spring. She said unlike a strict, regimented ballet class, the CSMA program is a place for those who still want to dance but don't want to take it too seriously.
"It's more getting them aware of their body as opposed to true ballet," she said. "We play freeze dance and land in first position or second position kind of thing to get them familiar with some of the steps and discipline within dance."
In honor of the 50th anniversary, CSMA has been adding to its list of events and even created the Gertrude Vrabel Award for Leadership in Local Arts Education. Vrabel was one of the original teachers in 1960 and still volunteers.
Vrabel said because she was there from the beginning, it's been an incredible journey to watch CSMA expand over the past half-century.
"It's a great place, and I want people to take advantage of that," she said. "Go and learn — that is how they keep growing and growing."
The school has created a music program in honor of the anniversary. Tropper-Herbel said after the First Friday gallery night, the school will have chamber music play. As for the rest of the celebration, Tropper-Herbel said they still have surprises for spring, and she hopes the school continues to grow.
"We want to continue to meet community needs and offer studies with an emphasis on the traditions in the arts but keep in step with contemporary theory and practice too," she said. "That's our goal — to watch for the changing trends in arts and be as accessible as possible."