In one corner of the Fitness Center at Ithaca College, a girl is lifted high into the air. In another, a student falls, caught only inches from the floor. In the center of the room, a boy scuttles across the floor, supported by a partner.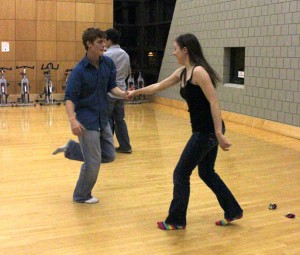 This isn't a random group of students, but rather a dance practice for one of the college's popular new clubs, the Ithaca College Swing Dance Club.
The organization was approved by the college in May and is in its first semester in action. About 20 members participate in each weekly lesson already.
Junior Anthony DeVito, president of the club, was not surprised by the amount of interest the club has received.
"I love swing, and I knew several other people who came together last year and said that," he said. "There was a lot of interest."
The Swing Dance Club holds a weekly swing dance lesson and practice session led by Kurt Lichtmann, a health promotion and  physical education lecturer who serves as the adviser to the club. He teaches swing dance, along with several other styles of dance such as salsa and ballroom, in downtown Ithaca.
While he also teaches other dance styles in courses at the college, swing dance remains Lichtmann's passion.
"It's a good way to meet people," he said. "It's energetic — it's about having fun and not about following a precise set of motions.  Swing dance is my specialty."
ICSDC includes all sub-genres of swing dance, including jump swing, East Coast Swing and Lindy Hop. Participants have the opportunity to learn moves, including the rock step, jitterbug and aerial lifts.
The college hasn't had a swing dancing club for the last three years, when IC Swing disbanded. The new club is composed of both beginners and experts, but because members change partners frequently, they learn from each other. Dancers first review basic movements, then more complex steps. Later, they combine them into a fast-paced dance to upbeat jazz soundtracks straight from the 1940s.
At their meeting Thursday, students analyzed Lichtmann's moves closely during lessons, replicating them while also adding in their own flair. No special dancewear is required for practice, as evidenced by many types of footwear including sneakers, performance shoes and even rainbow-colored socks.
ICSDC is open to all students, staff and faculty at the college, and response has been strong from all sides. Some, like freshman Alisa Babcock, are glad to have a chance to have a place to practice their swing dance skills, while others, like senior Sabina Cao, are excited at the prospect of learning a new style of dance.
Babcock went to Applefest with DeVito, where he taught her how to swing dance on the Commons.
"It's something I never expected to do at college, but it was fun and I decided to join," she said.
Warren Schlesinger, the chair of the accounting department, said he was excited when he learned faculty members could participate in the club.
"It's really great," he said. "Students get really excited to dance. I took one little bit of swing dance lessons this summer, and I liked it so I thought that I would try again. The students encourage me to stay with it."
Lichtmann said swing is the easiest style of dance to learn. Historically, he said, swing dance began as part of African-American culture, which later transcended into the mainstream in the 1920s with the rise of jazz music, though its presence lessened in the 1950s. Swing dance continued to thrive as a niche art form, and still remains a popular style of dance for all ages, Litchmann said.
"Swing dance is America's dance," he said.  "It's always been that way. It's an American tradition and an African-American tradition.  It's like a melting pot."
In order to create a more significant presence on campus, the club members said they would like to collaborate with other clubs like IC Ballroom and hold performances in the future.
Junior Dawn Ely, secretary of the club, said she and the rest of the club members hope to start hosting events, but everything is still in the planning stage.
"Ultimately, we'd like to get the club to have some common members who we can plan a routine with and perform at campus events," she said. "We're also hoping to host some of our own dances as well."
The level of interest shown by students, when the club had little to no presence on campus, bodes well for its future, highlighting the appeal of swing dance and giving students the opportunity to take a break from schoolwork and stress.
"Dance is partnering; it's fun," Lichtmann said. "Energy and exercise, it all goes together. My philosophy is let's dance and have fun."
The Ithaca College Swing Dance Club meets at 8 p.m. Thursdays in the aerobics room of the fitness center.