A multicolor skull hangs on the wall, watching as people sip coffee and munch bagels. Tranquil landscapes soothe anxious patients waiting to see a doctor.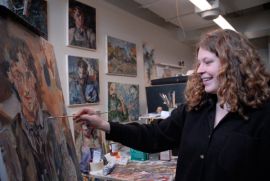 Geography proofs were replaced by colorful paintings to amuse library patrons at Cornell University.
Unique local art has been popping up on the walls of some unexpected places around Ithaca.
Sophia Stella, a customer at Collegetown Bagels on The Commons, was unable to pry her eyes away from the art above the small café table.
"[The art] brings energy and gives you something to look at," she said, peering over her large cup of coffee.
The multicolored skull hangs parallel to a painting of a bottle of wine at CTB. It is not just a place for a bagel, sandwich or caffeine fix. The popular eatery features eye-catching art by local artist Sam Sprague and will do so until early May.
The display also includes a soft pink
waterfall, a turquoise underwater scene and a navy and black desert landscape.
"Its distinct colors keep the place upbeat," Stella said.
CTB's marketing staff has recently started to call the community arts partnership to choose artwork for most of its three locations. Local artists have approached the coffee shop with samples of their work both in person and electronically, according to Sandy List, a marketer for CTB.
"The artwork really enhances our stores," List said. "It gives local artists a chance to show their work."
On East Hill, off the front lobby of Mann Library at Cornell University, is Manndible Café, which opened in September. Kathleen Pasetty and Pam Gueldner, owners of Manndible, are the former owners of Juna's Café, which closed in late February. The food, desserts and beverages are not the café's only display of local flavor.
Pasetty said she plans to present new local artists every three to six months.
"I like local art … it's really about my philosophy of appreciating the scene around me," she said. "The people, the landscape, the work, the life … it's about sustainability too."
Last week, Mannible featured the unique art of Jay Hart, whose work was approved and placed in the café by Pasetty. Sets of small, framed proofs were intentionally designed not to overwhelm the ambience of the eatery. It would be easy for anyone to be stricken by Hart's work — though the images' explanations are a bit technical.
"Typically my work seeks interesting compositions of broad scale geography, depicted with custom-colored elevation surfaces and at times draped with natural color satellite imagery," Hart said.
Last weekend, the display at Mannible changed to host Alice Muhlback of the local store Spirit and Kitsch. Her art differs greatly from Hart's, as it includes characters and a strong expression of the artist's personality. Muhlback's work had previously appeared on the menus at Juna's, as well as an assortment of merchandise, including credit cards and coffee sleeves, for a national company that has been in circulation for two years. She is now creating designs to be used in kitchen textiles.
Pasetty said she also likes the local
artists themselves.
"Once I get to know someone, I tend to enjoy their art even more," she said.
Back downtown, up a staircase and above Soundworks music store is the Ithaca Free Clinic, a health care service for uninsured members of the community. A staff of volunteer physicians, herbalists and acupuncturists work among the art of Ithaca College senior Amanda Vella.
The 21-year-old art major's eight oil paintings hang on vibrant green and orange painted walls, giving those who are ill something beautiful to ease their minds.
"We try to make it a friendly, uplifting environment," clinic coordinator Jim Goodreau said. "It really adds quite a bit of warmth."
Like many of Ithaca's cafés, the clinic also aims to support the community and its artists.
"[The walls] are not very peaceful, but my paintings tend to be peaceful and
dynamic," Vella said.
The oil paintings are 16 by 20 inches, with the exception of one that is 24 by 30 inches. The clinic houses one still life, one portrait and six landscapes.
"I paint from life," Vella said.
This means she may place herself in front of a still life, have her boyfriend sit for a portrait or lug her big wooden easel and canvas to paint outside, but the harsh weather of Ithaca's winters often hold her back from creating landscapes outside.
"It usually starts with mixing my palette and painting one stroke after another, trying to relate each stroke to the other, rather than just building up the background and the body," Vella said. "I'll try to paint it all at once to create a sense of harmony."
Vella, who describes her art as impressionistic yet not overly expressive, said she doesn't believe getting work shown in cafés is particularly difficult. For her, the hard part is having enough art to showcase.
"It's hard to get a breadth of work that relates to one another," Vella said. "I've
developed a style so all of my paintings can be shown at the same place."
Vella, originally from the small town of West Hartford, Vt., is used to the people in her town concentrating on hobbies such as hunting rather than paintings and artwork.
"It's really cool to be in an artsy town," she said. "People are really interested."