The lights are low, the bar is open, and the dance floor is packed. It is late, but the night is still young. Behind the turntables, the disc jockey keeps the people dancing.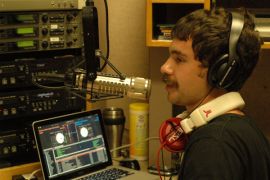 The DJ running the show is Michael Horowitz, also known as DJ Fuzzy Duck. Horowitz plays DJ music sets at clubs and parties in the upstate New York area.
He said a lot of back-and-forth decisions went into choosing his DJ moniker, "Fuzzy Duck."
"That's kind of a long story," he said. "That's a name that came out of a hat that I've had for a while."
He has been performing, or "spinning," in the Ithaca and Syracuse area for more than five years. Originally from the New York City area, Horowitz's interest in music came from involvement in a high school radio station.
After high school, he attended Cornell University where he majored in science of Earth systems. In college, he improved his technique and expanded his repertoire of music by performing at dance parties held at fraternities.
Horowitz said the experience helped him understand how to play for a specific audience.
"If you're not keeping them happy, they'll let you know it," he said. "You really have to cater to them, and you can't push your own agenda until you get good."
Now, in addition to spinning at dance parties, Horowitz also spins from 10 p.m. to 1 a.m. Saturday nights at the Pixel Lounge in Collegetown.
Sophomore Laura Brand, who DJs for WICB and VIC Radio, Ithaca College's radio stations, said Horowitz's reputation and influence is widespread.
"He's definitely a local legend," she said. "He's got a wonderful voice and quite the personality if you listen to his show … just a lot of character."
One former Cornell student who was particularly drawn to Horowitz's style was Josh Stansfield. Also known as DJ Electric Mayhem, Stansfield met Horowitz as a freshman at Cornell and sometimes performs alongside Horowitz.
Stansfield said their two styles often complement each other — something that makes the two compatible.
"He's much more talented with classics, hip-hop, funk or older disco stuff," he said. "I've become much more of a fan of injecting newer stuff into what we play, and I tend to play a little more of the harder electric stuff."
Stansfield also said Horowitz has superior knowledge that sets him apart from many less-experienced DJs.
"He's layering two, three, four songs over each other, playing remixes, blending remixes," he said. "A lot of people would just play playlists."
DJs constantly need to adjust their styles and equipment to meet the demands of the audience, as well as the 21st century.
Horowitz said he had to adapt to the changing times as well.
"When the time came to go digital I got [the software] Serato, which hooks your laptop up to your analog turntable, and you can play any song off of your laptop as if it were a record," he said. "[It] is nice because I still have the ability to control the song with my fingertips."
Horowitz said the ability to have thousands of songs on a personal computer has caused an explosion in the industry. He said the availability of new software programs takes much of the talent out of performing.
"Anybody can be a DJ because anyone has music on a laptop to mix with," he said. "Programs let you mix songs with zero DJing ability. The market has been saturated with 'laptop DJs.'"
Horowitz plans to DJ for WICB's evening hip-hop show, Fridays on City Rhythms.
"What I want to do on City Rhythms is to bring music you would hear in the clubs that isn't just hip-hop," he said. "I want to play what you would hear if you were to go to any of the clubs in NYC."
Horowitz said he is not certain what role his DJing will have in the foreseeable future.
"I don't really have any goals with DJing because I don't want to make it a full-time effort," he said. "I'm always looking for opportunities."
For the time being, he said he will continue to keep people dancing all over Ithaca.
"I just really enjoy playing, and that's the reason I'm it," he said. "To have fun."