It seems sophomore Sarah Singer was destined to be a "Doctor Who" fan.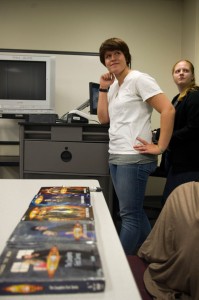 "It's been a part of my life pretty much since I was born," she said. "My parents were big fans, and I'm actually named after a 'Doctor Who' character. So I just grew up watching the show."
Super-fan Singer is part of the new group on campus this semester, IC Time Lords, who devote their Friday night meetings to watching "Doctor Who," a BBC television show and cult favorite.
The club's president, junior Julie Hepp, said she started the club to watch "Doctor Who" with other fans and to introduce more students to the show.
"Even though it's about an alien, it's very human," she said. "There's a lot of relationship issues, and there's a lot of action and adventure and drama things, but there's also a very soft and humorous side to it."
There are currently 23 members of the club's Facebook group. Recent attendance has been closer to two or three people though. Members watch the episodes and other "Doctor Who" videos on YouTube and talk about what they like about the show.
Senior Amber Drummond heard about the club on Facebook. She said she loved the writing on the show compared to shows in the United States.
"Even though the seasons are shorter, I feel like they have more character development and action than a full American season," she said.
The show ran from 1963 to 1989 for 26 seasons. It was picked back up again in 2005 and is currently in the fifth series of the current run. "Doctor Who" focuses on an alien known as the Doctor and his adventures through time and space in his time travel machine, the TARDIS, with his companions. Since the Doctor himself is an alien, the actor playing him can change at any time without story issues popping up.
So far in the series, 11 actors have played  the Doctor. Sophomore Caitlin O'Connell said her favorite Doctor was the 10th one, played by Scottish actor David Tennant.
"David Tennant is amazing," she said. "He's a really good actor and quite attractive."
O'Connell said she started watching the show after her friend recommended it to her. She said she liked it because of how lighthearted the show was and how it didn't take itself too seriously.
"It's goofy sci-fi," she said. "It's very low budget, and it's just silly."
O'Connell and Singer both said they hadn't seen the earliest seasons of the show, because they're difficult to find on DVD and online. Since "Doctor Who" is on BBC in the United Kingdom, fans in the United States have a hard time finding places to watch the show, leaving viewers like Hepp to dig around online to watch their favorite show.
"I didn't have BBC America until last summer, so I found a lot of websites to watch it off of," she said. "I took it though, because it was 'Doctor Who.' It was worth it."
Singer said she watches the show with her parents at home on SyFy Network and also follows other British television shows like "Spooks," "Primeval" and "Being Human." She said she likes the honesty of British shows and the intelligence of the stories.
"It doesn't need to pander to people," she said. "The characters are more relatable, and the actors look like real people. It's a more intellectual experience because you can get into the characters and the stories more because you're not just watching them for their appearance."
Hepp said in addition to sharing a love of Dr. Who, the club members also share a sense of geek camaraderie and shared jokes that few other clubs on campus offer.
"I feel like in a club like IC Time Lords, you can just ramble on and everyone's there with you," she said. "In the first meeting … we were going on back and forth about which characters we liked, offshoots of the show like 'Torchwood' that we liked. It was awesome."
Hepp said the club hopes not only to spread that whimsy to the whole campus, but also to participate in "Dress Up Like a Time Traveler Day" in December and to raise money to make "Doctor Who" T-shirts.
Drummond said she hopes the club will help create more fans of the little-known show.
"I feel like so many people just don't know what it is," she said. "When they do they watch it, they love it."
O'Connell said she wants to reach out to more science fiction fans as well.
"We could share the wonderfulness that is 'Doctor Who,'" she said. "There are enough dorks on campus who would appreciate it."
The IC Time Lords club meets at 5 p.m. every Friday in Friends 201.