Freshman Jason Wilber came to Ithaca College to focus solely on his schoolwork. But after meeting freshman Emma Garrison, in their dorm, Terrace 13, things changed. Before he knew it, Wilber was in a relationship.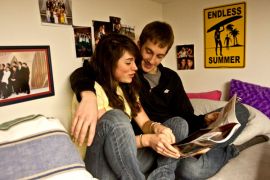 "There's something magical about T13 and the way it brings people together," Wilber said.
Wilber said his class schedule doesn't match up with his girlfriend's so they don't run into each other on campus, but a walk through the common room leads to Garrison's door.
"We probably never would have met if we didn't live in the same building," he said.
At the college, students find living in the same dorm as their boyfriend or girlfriend to be easy and convenient.
Bill Hudenko, assistant professor of psychology, said students who see each other more often are more likely to try dating.
"The mere exposure effect is the more you are around someone, the more likely you are to favor them," he said. "Proximity is one of the variables that will increase the way people will develop a romantic relationship."
But living in the same dorm can cause problems for couples that have not set boundaries, Hudenko said. For Garrison, living in the same building as her boyfriend isn't always easy.
"I can't escape seeing him when we are in a fight," she said. "It's awkward."
Bonnie Solt Prunty, director of Residential Life, said Residential Life neither encourages nor discourages students from dating within the same dorm, but students should consider the consequences.
"I would encourage students to think about what it will be like to live in the same building if the relationship does not continue," she said.
Garrison said she believes living down the hall from Wilber is what brought them together, despite tensions felt before they made the relationship official and were casually dating.
"I wanted to be with him because he was there all the time," she said. "He had become such a big part in my life. T13 enforced it, and we couldn't stay away from each other."
Sophomore Nina Davidson first met sophomore Brendan Green when they lived in Bogart Hall together freshman year. Davidson and Green now live in Terrace 6 and Terrace 9, respectively. Green said living in separate dorms puts a strain on the relationship.
Davidson said she misses when she could see Green without needing to plan to hang out.
"It was easier when we could run up or down one floor to see each other for just five minutes before class," Davidson said. "It's a pain and just so much work to do something so little that we took for granted last year."
Davidson said making the relationship work was hardly an issue when they lived in Bogart together. Now, putting in the effort makes dating less enjoyable.
"When you live in separate buildings you just take any chance you can," she said. "It's not like when you want to. It's when you can. It's not as appealing."
Hudenko said relationships can be strained when situations like living arrangements change and couples move farther apart.
"Moving farther away from your partner can create a significant amount of stress because it requires an individual to adapt to a number of different changes," he said.
Basing a relationship on proximity can create an uncomfortable environment when things end. Sophomore Tim Lewis started casually dating a woman in his dorm, East Tower, earlier in the semester. Eventually Lewis made the relationship official, but within three days his girlfriend broke it off. Now Lewis said he feels awkward seeing her around campus and fears running into her in East Tower.
"When I see her from a distance on campus, it sucks," said Lewis "I saw her once at the Fitness Center. The close proximity is hard because I want to see her, but I wouldn't know what to say."
If a conflict were to arise between a couple living together, Prunty said Residential Life would handle the situation like any other rooming conflict.
Some couples choose to live together because they are compatible and work well as roommates. When juniors Meg Malone and Zach Tomanelli moved into a Circle Apartment together this year, they had no worries about how the living arrangement would play out.
"We aren't living together because we are dating," Tomanelli said. "We would have lived together anyways. We knew each others' living habits, so the transition to living in the same Circle was smooth."
Prunty said Residential Life allows larger Garden Apartments and all Circle Apartments to have coed roommates without members of the opposite sex sharing a room, but Residential Life does not know whether roommates are dating.
"We have no way of knowing if the students requesting to live together are part of a relationship or simply good friends," Prunty said.
Malone said she and Tomanelli have made their living situation work for the last three years because of their compatibility.
Malone said keeping their couple issues behind closed doors allows them to have a positive living situation with all of their roommates in the apartment.
"It's not like we're on the couch making out while our friend is doing homework," she said. "We do fight occasionally, but it mostly takes the form of venting after a long day."
Tomanelli said living with Malone is easy, but not everyone is cut out for that much together time.
"Living with my girlfriend and friends is a positive experience," he said, "But this type of living is not for everybody."