Up close, a cell phone looks pretty small. At least at first.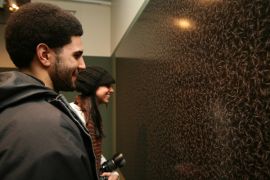 Stand back and you'll find yourself staring at 426,000, the average number of cell phones disposed of in the United States per day.
Statistical shock is at the root of "Running the Numbers: An American Self-Portrait," one of two new exhibits at Ithaca College's
Handwerker Gallery that were unveiled at an opening reception last Thursday. "Numbers" highlights the work of Seattle-based photographer Chris Jordan, an artist who documents consumer culture by lending a concrete image to intangible excess.
"Numbers" evokes the role of the individual in this process of excess by emphasizing the fact that each disposed cell phone, or soda can or trash bag, creates part of a bigger picture. Senior Mary Schaefer explored the exhibit by looking at the images up close before taking in the context.
"I didn't want to read the explanations," she said. "I wanted to try to figure out what it was on my own."
"Numbers" also features a reaction wall on which visitors to the gallery can scribble their reactions to artist Jordan's sobering panorama of American culture. One comment claims, "I usually use trash as my undergarments – so there!" And another, "I felt so guilty I ate my plate."
Also featured at the Handwerker is "Of the People: Inuit Sculpture from the Collection of Mary and Fred Widding," a new exhibit representing a culture quite unlike that of its gallery neighbor.
The collection represents the work of the Inuits, a tribe of people inhabiting northern Alaska, eastern Canada and Greenland.
"The exhibit's about exploring a little-known culture," said senior Elizabeth York. "It's an interesting topic to study especially because they've gone through so much change and have such incredible talent."
"Of the People" represents the culmination of a seminar offered in Fall 2007 through the college's art history department. Cheryl Kramer, director of the Handwerker Gallery and assistant professor of art history, charged students with the formidable task of curating and mounting their own exhibit, from the first days of research to the final preparations in marketing and installing the collection. York was a member of the installation team.
"We really got to do what we wanted to do, whereas in a regular class you just get
lectured," York said.
Though the exhibit is curated by Ithaca College students, its roots are Mary and Fred
Widding, co-owners of the collection on display.
As a 50th birthday present, Fred Widding encouraged his wife, a speech pathologist and alumna of the college who now works as an art historian at Cornell University's Johnson Museum, to make a change.
"His speech to me was that I should follow my passion," Mary Widding said. "It's been a delight."
The Widding's interest in Inuit art was piqued when a co-worker of Fred's showed the couple a "box of rocks," Mary Widding said. That "box of rocks" now represents three of the miniature stone sculptures featured at the Handwerker, pieces of a unique puzzle the Widdings have been building for the better part of a decade.
"We fell in love with the pieces and the peoples' stories," Mary Widding said. "We made a deal in collecting that the one piece of art had to speak to both of us."
"Of the People" stands in stark thematic contrast to its sister exhibit, given the elemental and ecological nature of the Inuit culture. The exhibit features plaques describing features of Inuit life, from shamanism to identity, in order to enhance the audience's understanding of the sculpture.
"What we found most interesting about it was that most people don't even know that Inuit art exists," Fred Widding said. "They come with virgin eyes."
Mounting one or the other would be difficult in itself, so showing them alongside one another required special attention.
"There are so many objects in a relatively small space," said senior Amanda Brownbridge, who worked alongside York on the installation committee. "Laying it all out to lead people through the exhibit is a challenge."
Perhaps, though, this challenge will prove to the Handwerker's serendipitous advantage.
The narrative created by the dueling exhibits is undeniable: two civilizations
harnessed within the Western Northern Hemisphere, each with radically different results. Even more striking is the fact that this difference is shrinking daily with the march of globalization.
"Even though the Inuits are native, they're growing more toward Western ideas," Brownfield said
Whatever the political ramifications, these first-rate exhibits have been handled with
professional care.
"To see it curated in such an organized and impressive way … it's a pleasure," Mary Widding said.