Senior musical theater major Ned Donovan still remembers the magic of seeing "Lion King" on Broadway when he was 6 years old. Now, he is only a few votes away from becoming the "Next Broadway Star."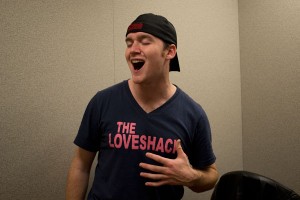 Donovan, one of the seven semifinalists in Broadway.tv's Next Broadway Star competition, auditioned for the contest in August with "Goodbye" from the musical "I Love You Because." Seven hours after his performance, he was selected to be one of the 16 contestants that continued on to the show. He then traveled to and from Ithaca and New York City four times to perform "Lost in the Wilderness" from the musical "Children of Eden" and "Walking in Memphis" by Marc Cohn.
He will return to Times Square on Monday to compete for a spot as a finalist, a chance to win $5,000 and a possible audition with prestigious casting directors and producers.
"Broadway is like the dreamer's dream of theater," Donovan said. "A lead on Broadway is the equivalent of being Brad Pitt, and those people live a life that is higher than us."
Donovan said he is grateful for the opportunity to perform for judges such as Duncan Stewart, a Broadway casting director who has worked for shows including "Chicago," "Radio City Christmas Spectacular" and "La Cage Aux Folles;" Arne Gundersen, president of the Actor's Equity Foundation; and Gunnar Larson, president and CEO of
Network Global Companies.
Rhonda Carlson, one of Donovan's vocal and acting coaches, has known him since he was a child living in Portland, Maine. She said she wasn't surprised he made it this far into the competition and has enjoyed watching him improve with each round.
"I couldn't be prouder of him," she said.
Carlson said she expects Donovan will have a successful career because he is so dedicated to his work.
"He's got lots of heart, lots of charisma and really a lot of energy," she said. "When you're in a performance world, where so many
students are majoring in theater and musical theater, you have to have be that special."
Donovan's passion for theater runs in the family. His mother, Debra Curtis, majored in theater at Williams College before she pursued a law degree at Cornell University. Donovan said she supports his decision.
"She secretly can't wait for my big Broadway break — so here's to hoping it ever happens — so that she could move in with me in New York and live in my spare bedroom," he said. "She's just counting down the days until that happens."
Though performing in New York is his ultimate dream, Donovan said reading composer Andrew Gerle's book "The Enraged Accompanist's Guide to a Perfect Audition" taught him to be realistic during auditions.
"Some people audition for 15 years and never get that big break, and I am performing because I love to perform," he said.
Donovan appeared on "America's Got
Talent" last spring when he performed a stage combat routine for judges Sharon
Osbourne, Piers Morgan and Howie Mandel, but didn't make it to the next round. Curtis said being criticized on national television was devastating for Donovan, but he has skills that make him different from his peers.
"One of the huge advantages he has over other musical theater types is that he can also swing a sword and pretend to throw someone over his shoulder, but he can break into song while he's doing it," she said.
Donovan said his acting differentiates him from the other Next Broadway Star contestants who put singing first when performing.
"I sound good, but I don't have that kind of Broadway beltfest scream-the-lights-out pop side," Donovan said. "My kind of saving grace in the competition is that I'm an actor first, so I approach the song like what would I do if it was just me walking through a street doing it, not like I was singing a song on a Broadway stage."
For his next performance, Donovan will sing "Moving Too Fast" from the musical "The Last Five Years" by Jason Robert Brown.
"I'm going to be big, I'm going to be bold, I'm going to be brassy, and I will be as Broadway as I can be while being completely true to me," he said. "Because if I'm not true to me, then who cares?"
To track Donovan's progress, visit www.broadway.tv/blog/broadway-blog/next-broadway-star-semifinalist-ned-donovan.