With the holidays fast approaching, it is easy to get swept up in the consumerism of the season. However, the Ithaca College Environmental Society will be offering an interesting alternative to the shopping of the season Tuesday in Emerson Suites.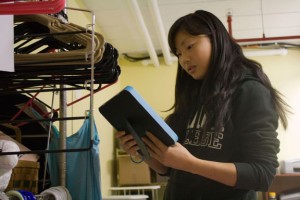 The club is hosting a Holiday Gift Swap, an event where students, staff and faculty are encouraged to bring in lightly used clothing or other items that could be re-gifted and to take something in return.
Junior Siobhan Cavanagh, ICES co-president, said the holidays are a time of waste and excess.
"People are buying gifts just to buy gifts, so there are a lot of consumer products that go with that, which is pretty unsustainable," she said. "With all those products comes a lot of waste for packaging, as well as the production of them. So we wanted to promote a more sustainable holiday season."
Senior and co-president Emma Hileman said for the past couple of years, ICES has held a gift swap for members of the club, but this year the members decided to make it a bigger event and include the whole campus.
"We're hoping people will bring in old clothes or clothes that don't fit, books, CDs, any gifts that they got for Christmas or Hanukkah previously, and they want to re-gift it or just give it away," she said.
The event is free, and in addition to clothing and other items, there will be food and music. There will also be an area where attendees can go to try on clothes, and Hileman recommends bringing a reusable bag to take items home.
Students can drop off their items throughout the day, but Cavanagh said it is preferable for them to drop off in the morning. The event will operate under an honor system with donors taking about as much as they give.
Club members are expecting students to take more away from the event than just physical items. Cavanagh said she hopes the event motivates some students to get active in their own communities.
"I hope that people take away that reusing things is the best way to go because consumerism is one of the biggest problems facing sustainability," she said.
Junior Margaret Keating, an ICES member, said the holidays are a time where consumerism is at the height of visibility, and there can be a stigma against giving secondhand gifts.
"In this society, we're very obsessed with everything being brand new and pristine and clean and sparkly," she said. "So, it's almost insulting to give somebody something secondhand, but that's just values that our society has created."
Hileman said throwaway culture is evident on campus as well, especially at the end of the semester, noting the dumpsters full of lightly used items she saw while walking around campus at the end of the semester last spring.
"We accumulate so much stuff when we're in college, some of us don't even know how it happens," she said. "It's a really good option to not just throw it out and to give it to people who need it or want it."
However, whether it's because of the economy or otherwise, buying secondhand has recently become fashionable, Hileman said.
"There definitely used to be a stigma, but that's really starting to fade, and most people really would not mind having a secondhand gift, I'm sure," she said.
Founded in 1988, ICES is one of the longest running clubs on campus, but Cavanagh said the gift swap is the group's first big event in a few years. The club members felt that because the college is a school known for sustainability, the event would be a good way to raise more awareness about sustainability, especially this holiday season when people are probably going to want to cut back on their holiday spending because of the economy.
Cavanagh said the mission of ICES is to promote sustainability on campus and address other environmental issues. She said the club is always looking for new members.
"We want to get more people interested so that we can hold more events that are bigger, and so that we can actually start to make some changes on the campus to make it even more sustainable," she said.