Jeremy Siegel calls himself a "slightly angry teddy bear." His bicep, popping out of a tight T-shirt, is 19.5 inches around, and it's part of his pride and joy. He spends six days a week at the gym lifting weights for an hour and a half and eats every two hours to maintain his beloved bodybuilder physique.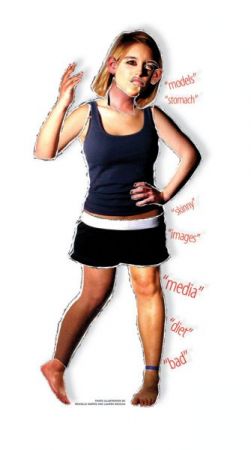 "I always wanted to be a big, powerful dude," said the physical education major, who said he grew up watching Arnold Schwarzenegger films.
Siegel is a senior at Ithaca College and weighs 235 pounds. At 5 feet 10 inches, his BMI (body mass index, a measure of body fat based on height and weight that applies to both adult men and women) deems him clinically obese.
The new doctor he saw recently was shocked by the stretch marks surrounding his arms from gaining 115 pounds in four years and couldn't believe Siegel's abnormally high blood pressure.
"It's either all the steroids you take or the four lines of coke you just blew in the parking lot," Siegel recalled his doctor saying.
But he insists he doesn't use steroids (or drugs) and instead attributes his unnaturally built body to a self-admitted "insane" obsession with his physique.
"I know it's totally overwhelmed my lifestyle," he said. "But I love it."
He hasn't drunk alcohol in six years, "freaks out" if someone calls him little — even if it's in jest — and says he can't handle not consuming some form of protein every three hours.
"I'm the first one to admit that I'm messed up," he said. "I know I'll never be satisfied."
A 2006 study done by Fitness magazine indicated that more than half of men and women are completely obsessed with body image: 58 percent of women and 54 percent of men would rather lose their jobs than gain 75 pounds.
It's noon on a Thursday — rush hour at the college's fitness center — and legs are pedaling faster and faster, arms are pushing harder and harder. Crunch up, crunch down: Movement does not cease. For the workout junkies, neither does the pursuit for perfection. But it doesn't end there.
Alice Meilman, a social worker at the college's Counseling Center, advises students about body image obsession and said the media have played a "destructive" role in perpetuating a self-conscious culture of men and women.
"There are many companies selling products which will benefit from people being dissatisfied with themselves," she said.
As for finding any bodybuilder idols in the fitness magazines Siegel reads, he says there's no one specific he aspires to look like, but he does check them out on occasion for comparison.
"I know it's airbrushed," he said. "But it's still always something to work towards."
This month's cover of InStyle magazine shows tips for the "just-right" wardrobe to morph any body type into a "thinner, taller" version.
The feature can be found, alongside others like it, at the gym, in the hands of the elliptical addicts moaning through workouts for leaner thighs and tighter abs, attempting the periodicals' latest ultimate cure for their every body dissatisfaction.
According to the blogosphere where the opinions of judgmental blogheads like Perez Hilton and NonSociety run wild, Kelly Brook has the perfect body — and apparently, it's a fact.
Scientists at the University of Texas have calculated that the English actress, better known for her curves than her career, has a waist to hip ratio of 0.70588253, deeming her body the ideal image of attractiveness.
Dominique Legaux, a junior acting major at the college, said she's looking forward to a life on stage. She is an active member of Spit That!, a poetry organization on campus that vocalizes many social and political issues, and Rock Hard Dance Company.
As an African-American woman with a self-described "medium build," she said she tries not to play into the societal pressure of having the ideal body image. She's done that before.
Diagnosed with Diabetic Ketoacidosis at 14 years old, Legaux struggled to lose the weight she gained as a result of insulin therapy. Starving, she nearly killed herself six times trying.
"It's a miserable existence to be obsessed with perfection," she said.
Legaux said the first thing that pops into her head when she hears the term "body image" is not a word, but a feeling.
"I feel a sense of struggle," she said.
Randomly chosen students on campus were asked the same question. Their answers were varied but shared a similar focus: Skinny. Bad. Stomach. Females. Diet magazines. Models. Freshman Chris Christmas said, "media."
"All you see is a certain body type," Christmas said. "You start to second-guess yourself."
Altering, tweaking, losing: all common themes that infiltrate society's insecure ideas surrounding not only weight — a commonly discussed issue — but also age, race and sexuality.
In an effort to disband the fixation with fixing, "The Body Project," a play based on Cornell professor Joan Jacobs Brumberg's 1997 book of the same title, hopes to celebrate a woman's ability to be comfortable in her own skin.
Brumberg's book is a collection of girls' diary entries exposing a universal obsession with body image. The play is the story of seven women, barefoot and vulnerable, and their evolving relationships with each other as their connections with their own bodies change. It opened last night at the Cornell Schwartz Center for the Performing Arts.
Emily Ranii, the guest director for the play, said it is important to explore the social implications of body image at many stages during a person's lifetime.
"It's not that once you get past high school you are past the danger zone," she said. "That's a misguided conception … it's never going to go away."
Society has in some ways moved on from idolizing Barbie's body, but only as far as to value plastic surgery, crash diets and artificial sweeteners.
Instead of attempting even one more "get-fit-quick" scheme, Legaux said she has finally come to terms with never being a size zero. It's just not in her cards.
"Why am I living in misery?" she said. "No one cares. They're not crying over it, so why am I crying over it?"