Though typically reserved for sinners sent below ground, Hell may be right around the corner, or in this case, on stage at Cornell University.
"No Exit" is a 1944 existentialist play by Jean-Paul Sartre, set to show at Cornell the next two weekends. The play is the source of the author's famous quotation, "Hell is other people."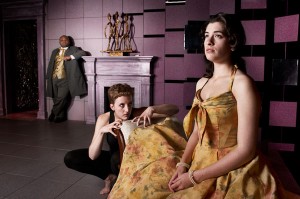 In Sartre's depiction of the afterlife, three deceased characters arrive in Hell, only to find it's not the fire and brimstone they expected. Rather, they are punished by being locked in a room together for all of eternity. They all arrive expecting to be tortured, but soon find, after asking about each other's sins and memories of earth, their punishment is the other people — they are each other's torturers.
Senior Alessandra Hirsch plays Estelle Rigault, a young socialite sent to Hell for a number of reasons, among them extreme vanity. She said the lengthy rehearsal process included some interesting questions as to what kind of Hell the characters were actually in.
"The discussions we had focused on things like, 'Is there saliva in Hell?'" she said. "How do you create Hell, what are the rules of Hell?"
For this production, director Juliana Kleist-Mendez, a senior at Cornell, added the element of dance with a shadow ensemble. The extra three characters mirror the main characters' desires and memories. She said it was difficult to incorporate this addition, as she was not only concerned with the length of the show, but also the pacing.
"You now have these three other people on stage that are changing the dynamic and the rules of the show and how it works," she said.
No music is used for the dancers and their movements are based on the dialogue. Hirsch said working with more than two other people on stage was a welcome dynamic.
"The ensemble members are the spiritual and physical manifestations of our torture and what our life was back when we were alive," she said. "So to have that right in front of us, knowing how to interact with that, has really added a whole new layer onto the show."
Since the characters are damned to spend the rest of time in one room, the challenge for any scenic director is addressing how to keep the audience interested. The room has no windows, no mirrors and only one door.
In this production, the wall of the room is constructed of solid, tight tiles moving to more scattered, separated strings of tile. While the room is clearly defined for the characters stuck in it, ensemble members slip in and out through the empty space. The floor follows the same tile pattern.
Kent Goetz, professor of theater, film and dance and resident scene designer at Cornell, said he constructed the set to be practical, but also provocative.
"I wanted some sort of structure that could be pulled apart and look like it had a natural progression from something solid to something that was more ethereal and fragmented," he said.
Even though characters reference specific colors for their costumes or set pieces in the script, Cornell's "No Exit" has a muted palette. Three unmoving stark-white chaise lounges are the only set pieces in the room. Goetz said the set was purposefully drained of any specific color.
"It is a lifeless space," he said. "There are different notions of Hell, and one, of course, is the fire and brimstone, but the other is just eternal banality."
Each main character is dressed in mustard-yellow garb from head to toe, which creates a uniform appearance and connects the three people, putting them on a level playing field.
They each have only one entrance in the play — when he or she first arrives in Hell — and never leave for the duration of the show. Hirsch said being on stage for the entire performance can get exhausting.
"You have to sit on stage and talk for an hour and a half, and you don't get any water or a pee break," she said. "On top of that, there's the challenge of making the characters seem real, and seem, forgive the pun, but alive."
Through use of a shadow ensemble, Kleist-Mendez said she aims to reflect the fragmented pieces of each character's self as they mirror each other, knowing they are dead but acting like they're still alive.
Kleist-Mendez said people often forget the other side of "Hell is other people" means people can still change and come to terms with who they are.
"The reason that the characters are ultimately here is because they were unable to make those radical changes," she said. "The message for me is that we're still alive and they're not. We can change. I hope you come out grateful to be alive."
"No Exit" will be performed at 7:30 p.m. Thursday, Friday and Saturday and Nov. 17 to 19 at the Schwartz Center at Cornell University. One matinee will be offered at 2 p.m. Nov. 19. Tickets are $10 to $12.