For freshman Lauren Crandall, beauty pageants aren't always glamorous. In fact, parts of them are downright painful.
"You have to glue [the bikini] on," Crandall said. "I got home, and my underwear was stuck to my butt. My mother had to use Goo Gone and rip it off. I was bleeding."
But she said the pain was worth it. As the winner of Miss Fonda Fair 2009 — a county fair pageant for women in Fulton and Montgomery counties in New York — Crandall butt-glued, sang and strutted her way to more than $1,000 in scholarship money in one pageant.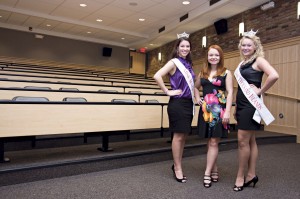 Crandall is one of a few women at Ithaca College who use pageants as a way to earn scholarship money. And the pageants are lucrative: according to Shelby Cohen, the director of Miss Thousand Islands, the Miss America Organization gives out more than $40million in scholarships sent straight to colleges every year and provides young women confidence to succeed in the future.
"We really do encourage the educational endeavors of our contestants, and that really is the mission of the organization," Cohen said. "Yes, absolutely, it is a beauty pageant. They are judged on beauty … but all the rewards are given out in scholarship form, and a very high emphasis is placed on education."
For Crandall and junior Morgan O'Brien Bocciolatt, who won Miss Thousand Islands 2011, a preliminary to Miss New York, their pageant stints began when their friends suggested they try them to network and make money for college.
Freshman Michela Moe won Miss Maui 2010, a preliminary contest to Miss Hawaii. She started competing — with her talent of hula dancing — in pageants after a teacher suggested it.
She said pageants have helped her make friends, not just in her hometown. Moe met Crandall on IC Peers and bonded over their common hobby. Now, they live together.
Bocciolatt, whose talent is singing, said she continues to do pageants not only for the money but also for the rush of winning.
"You really can't believe it," she said. "It's the greatest feeling."
But before Bocciolatt could win the crown, she had to go through the press conference-style personal interview. For 10 minutes, several judges ask the contestants questions ranging from personal to trivial.
Moe, like Bocciolatt, said she found this process stressful.
"One second the question was, 'What is your take on the current issue of the oil spill?'" Moe said. "And right after answering that, it was, 'Are your eyes really blue?' You never know. And that's the nerve-wracking part."
She said after the first interview, though, she was more comfortable with the judges and the process itself.
"Once you get in there, you know you can be yourself," she said. "And as long as you're confident, then you're OK. I felt so much more prepared for the Miss Hawaii interview. It's just like you're talking with friends."
Bocciolatt, a communication management and design major, said the interviews have given her the confidence to go into the working world.
"More so than preparing me for college, it's helped even more in job searching and professionalism as a whole," Bocciolatt said. "You have amazing life experiences that you probably wouldn't have had before. I can't even express all of the benefits I've really had from pageantry."
Bocciolatt will compete in the Miss New York pageant this June, which is scheduled so contestants don't need to miss class. Bocciolatt said the Miss America Organization values education and expects its contestants to do the same.
Crandall said education helps women to be confident in their own views — something that is crucial for a pageant contestant.
"Being able to answer on your feet with no time to prepare definitely helps your confidence to grow," Crandall said.
Senior Susannah Faulkner competed in and won Miss Erie County 2008, a preliminary to Miss Pennsylvania USA. This pageant is sponsored by the Miss USA Organization. Though the competition is a beauty pageant, contestants still participate in the interview process.
Faulkner said the experience helped her learn more about herself.
"Pageants helped me realize that I can truly do anything I set my mind on," Faulkner said.
After the interviews are done, the "beauty" segment begins. Contrary to popular belief, not all contestants spend thousands of dollars on their gowns. Moe had her mother sew her talent costume and evening gown. Crandall found hers on eBay and said spending money for a small scholarship doesn't make sense.
"I buy all my stuff secondhand," Crandall said. "We do it for money options. You don't want to put in more than you can get out."
Contestants have a limited time to get ready for shows. Bocciolatt said the majority of women in the Miss America pageants don't have a "glam squad" to help them prepare. They usually have two hours to get themselves ready, sometimes less.
"I actually had a hostess zip me into a dress using her teeth this year because it's so fast-paced and crazy in the dressing room," Bocciolatt said.
On stage, the girls flaunt their bodies in the swimsuit competition. Crandall said the bathing suit portion is actually empowering.
"I mean, what other hobby do you walk around on stage in a swimsuit?" Crandall said. "That changed me. You need that confidence in order to succeed."
At the end, the judges name a winner – a moment Bocciolatt said is "surreal." While she didn't expect to react like the stereotypical pageant girl, she did get emotional when was crowned — she didn't even know where to go when her name was called.
"I was laughing and crying," she said. "Honestly, I didn't know what to do when they told me to walk."
The benefits of pageants last longer than the titles earned. Crandall said because of pageants she knows more about how to prepare for her future career.
"I'm able to walk into a room and answer questions about really difficult subjects," she said. "By overprepping in the pageant interview, job interviews are easier."