Lindsey Humphreys can't stand it when her twin sister, Caitlin, doesn't answer her phone. When Lindsey gets her sister's voicemail, she doesn't leave her a message, wondering where her sister could be. Instead, she drives from her studio apartment on Hudson Street to Caitlin's apartment on North Aurora Street to find her identical twin.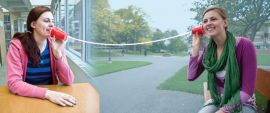 "She always bangs," Caitlin said. "Even though she has her own key to use."
As seniors Lindsey and Caitlin, both history majors, prepare for graduation, Lindsey said she could not imagine these past four years without her sister.
"If I were a hundred miles away, and she wasn't picking up her phone, I'd get worried," Lindsey said. "But it's so much easier to drive 10 minutes and bang on her door."
A set of brothers and sisters talk about life on campus together.
Lindsey and Caitlin are two of the 221 students who have siblings on campus at Ithaca College this year, according to the Office of Institutional Research. This fall, there are 63 freshmen with a sibling on campus. Last fall, there were 39. Larry Chambers, director of student financial services, said the college does not do special recruitment for siblings. He said he does not find the number of siblings on campus this year surprising because of the size of the freshman class. Students who enjoy their time at the college often talk about it at home, he said.
"If one student has a positive experience at the college, he'll naturally tell his brother or sister," Chambers said.
As high school seniors, the Humphreys were not planning to attend college together. After 18 years together — 24 hours a day of sitting in class with one another, driving to school, being involved in the same activities and sharing a room — Lindsey said she was looking forward to being her own person away from her sister.
"My whole life, people thought we were the same person," she said. "'Half a person, half a brain,' they'd say."
But before deposit slips were due, Lindsey watched an episode of "True Life," a documentary series on MTV, where identical twins were separated after high school. She said the twins developed separation anxiety, and she was frightened that would happen to her and Caitlin. Lindsey then decided to attend the college with her twin.
The twins decided as freshmen they would have their own separate lives and not live together — though they both decided on single dorm rooms in the Towers. Three years later, the twins see each other every day, whether it's in the two classes they take together or when Caitlin makes dinner for Lindsey.
"Now that I look back on these four years, it would have been very daunting going to school without my sister," Lindsey said.
Chambers said siblings at the college who are enrolled as undergraduates are awarded an Ithaca Sibling Grant, which gives $1,000 to each sibling per academic year. He said even though the grant may be small for families with two students attending a private institution, it's the college's way of acknowledging families with more than one student at the college.
"It'd be nice if it was more," he said. "But any additional resources that can be brought to bear for a student is a good thing — and certainly when you have two students attending college at the same time."
Junior Josh Vorensky said the grant is financially beneficial for him and his younger brother, Mark.
"Even though it's small, it definitely helps," he said. "Any bit of financial aid helps."
Mark, a freshman physical therapy major, said he decided to attend the college because he liked the community, was impressed with the physical therapy department and thought everyone was friendly every time he visited. It was an added bonus that his older brother, Josh, a junior television-radio major, was also at the college.
Josh said he wasn't annoyed that his younger brother chose to attend the same school as him. He said he was thrilled. He remembered being a freshman and feeling homesick for his parents and Mark — something he wanted to help his brother overcome.
"We try to see each other every day, whether it's catching lunch or studying together," Josh said.
For the Vorensky brothers, whose mother graduated from the college in '82, college is only strengthening their bond.
Josh said he now gets to see most of Mark's cross country meets, which he would not have been able to do had Mark chosen another school. For Mark, there are also perks to having his brother on campus.
"I know where all the parties are," Mark said. "And when I get sexiled, I go to Josh's apartment."
The Shirley brothers profiled in last week's article "Beyond Brotherhood" cheered one another on in soccer, as well. Junior Mike Shirley and his younger brothers, twins Jack and Dan, all play for the college's varsity soccer team. Mike said playing for the same team is a great experience.
But not all siblings spend as much time together as the Shirley Brothers. Junior Andy Hanold rarely sees his brother, freshman Mike Hanold, even though they're both TV-R majors.
"I was a bit worried [Mike] may try to tag along with me," Andy said. "But so far, he's doing a good job of making friends on his own."
For Mike, making sure people know he is not following in his brother's footsteps is important.
"When I say I'm a TV-R major at Ithaca, people ask if I decided on that because of my brother," he said. "But I didn't. I chose to go to Ithaca for TV-R on my own."
But just because siblings are older and at college now, the fighting hasn't stopped. Last summer, Caitlin, younger by 45 minutes, moved in with Lindsey when her lease was up. Lindsey said it was the first time the girls lived together since high school. And it was not an enjoyable experience.
"Caitlin cleans all the time," Lindsey said. "I'm messy, and I don't like my sister telling me to clean. My mom, maybe. Sister? No."
Next year, the sisters will be separated — something that has not happened since sophomore year when they both decided to study abroad in India during different semesters. Both said sophomore year was extremely hard to get through.
"We only saw each other for a couple of days that year," Caitlin said, "But we had to Skype each other every day."
Even with their differences, Caitlin said she's glad she decided to go to school with her sister and best friend, Lindsey.
"I always have someone on my side here – no matter what," she said. "Mom always said, 'Blood is thicker than water.'"