Ithaca College junior Tatiana Sy has been designing her own clothing all her life, but she said she never seriously considered designing for others, let alone launching her own line of fashion. That is, until junior Biana Lee Forseca approached Sy about designing pieces for the annual student run fashion show, Capture the Dream.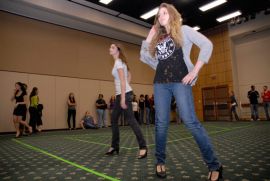 Capture the Dream was held April 4.
The show, which will be held in Emerson Suites, is supported by the Office of Academic Affairs and is scheduled every year during visitation weekend of accepted ALANA (African, Latino/a, Asian and Native American) students, which provides them with a taste of campus and college life and involvement.
Sy will have eight to 10 pieces in the fashion show, which will showcase the talents of 50 amateur and professional student models of all shapes, sizes and colors, as well as student performances from IC Circus, a vocalist, a rock 'n' roll violinist and a rap group from Ithaca High School, said junior Cornell Woodson, who is production manager of the show for the third year in a row.
"We really wanted to show that we are connected to the community [by including local high school students]," Woodson said.
This year's show is all about diversity, from the models and the performers to the clothing and the music, he said.
The show will consist of four scenes: a drag opener, followed by a club scene, an American Gangster-style scene and a Cirque de Soleil-esque finale. Guests can expect bright colors and upbeat, engaging music spanning several generations and a variety of live entertainment to fit each theme.
Woodson, who produced the show for the first time as a freshman in 2006, said he has no boundaries for himself when it comes to leadership and event planning and adapted the same approach to this show.
"Plus size models, short guys, tall guys, black, white, Asian … that's what we like about it. It doesn't fit in the box," he said.
Those involved said it is all about empowerment — giving students on all ends of the project a chance to learn, do what they love and break out of any shells.
"Many of the models have never done anything like this before, and now we're giving them a chance to go out there and show what they can do," Woodson said.
Every year the production staff — about 16 people this year — borrows clothes from stores in Ithaca and the Carousel Mall in Syracuse. Clothing from New York City has made its way onto the runway in Emerson Suites in the past, but this year designs will be coming mainly from stores such as Express, Banana Republic, Cache and Lane Bryant, to name a few.
Then there is Sy's line, The Showstopper, which was virtually born from this fashion show when she decided to turn several pieces she designed for the show into a line. The Showstopper will make its formal debut as a full line at a launch party this Saturday at Pancho Villa. It is open to the public, and models will be showing off brand new designs recently added to the collection.
"Things have just fallen into place," Sy said. "I started to see [that] the pieces from the show could represent the start of a line, and that jumpstarted me into the process. There's a great opportunity to do this here in Ithaca, especially with this [fashion show]."
The Showstopper line is very feminine, consisting mostly of dresses and evening wear. Sy plans to add day wear in the future, which will be less formal but run along the same lines of skirts and dresses.
"We want women to feel a certain way in our clothes, to be illuminated for a night in that dress, in any context, from dinner parties and galas and balls to everyday club wear," Sy said. "We want the woman to feel that there is a part of her in that dress."
Freshman Mark Forte, a production assistant for the show, described it as an amazingly diverse and choreographed show that will really pop.
"People said last year's was good, but this one will be phenomenal," Forte said, adding that he had to submit a résumé and be interviewed in order to be part of the crew.
This year the event will benefit others in a variety of ways: Colleges against Cancer will be accepting donations for the American Cancer Society during the event, and profits from Sy's launch party will go toward Keep a Child Alive, which provides medical care for HIV/AIDS patients in Africa, and KIVA, which helps entrepreneurs in impoverished countries start their businesses.
"Expect the unexpected," Woodson said. "Emerson Suites will not look like Emerson Suites that night."
Capture the Dream will be held at 8 p.m. tomorrow in Emerson Suites. Admission is free.