Musefest
This August marks the ninth annual Musefest. The non profit music festival showcases the best music from all genres. It focuses on local acts — and vendors — but also draws in bands from farther away. Of the around 40 bands on this year's bill, about 30 are from the Ithaca-Elmira-Binghamton area, said Rob Dalphous, Musefest coordinator and director.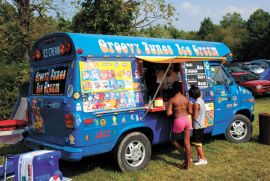 Dalphous said Musefest began as a free Labor Day celebration to remind people of the "idea of Labor Day" — the more people chipped in, the better the festival would be. This year, like in 2007, the festival will take place August 22 to 24, when students are just returning to town.
"[The date is] good because we've got a lot of people in town that wouldn't normally be here, but it's also bad because a lot of people are really busy," Dalphous said.
Still, last year festival crowds reached 2,000 people. This year the festival committee is working to expand camping space to accommodate more visitors, Dalphous said. This year's festival is set to feature Ithaca College's own Jimkata and The Rozatones.
"When [people] say, 'Well if you could put it in one sentence, what is [Musefest]?' I'm like 'Well this is probably the best party of the year that you can go to,'" Dalphous said. "It's like being at a backyard barbecue of sorts but it's also very similar to being at a music festival."
For more information visit www.musefest.org.
— Jamie Saine
Ithaca Festival
Since 1977, Ithaca has been celebrating its local artistic flair through the Ithaca Festival, originally called "Celebration Ithaca." Each year includes a parade, vendors and entertainment.
Jacob Roberts, the festival's executive director, said a parade kicks off the festival every year. Past marchers include unicyclists, the Red Hat Ladies and Volvos in Tutus. The festival was originally intended to draw attention to the area during the quiet summer months, Roberts said.
"In essence, the mission was to celebrate this community and the artist in each of us," Roberts said. "[To] promote the fact that we all have this creative like spirit within us, whether we're a working professional artist or just somebody that, you know, lives their life in a creative and kind of funky manner."
The festival, usually held the weekend after Memorial Day, has been moved to summer solstice weekend, running from June 14 to 22. Organizers are hoping for less rain and warmer temperatures by pushing the date back to late June.
This year's theme is "I Am Ithaca," and the festival will feature some new attractions, like the "Taste of Tompkins" series highlighting local chefs, produce farmers and brewers, and sustainable living examples that are being expanded from just a Sunday event to an all weekend affair.
The festival is also expanding from its traditional downtown location to include events at Stewart Park and the Ithaca Farmer's Market, with a special T-CAT route providing regular transportation between locations. This year's festival will feature around seven stages of live music operating simultaneously all weekend.
"We're really diversifying the pallet of what festival-goers will come to experience this year," Roberts said.
For more information visit www.ithacafestival.typepad.com.
— Jamie Saine
Grassroots Festival of Music and Dance
Jeb Puryear and his band, Donna the Buffalo, started Grassroots Festival of Music and Dance in 1990. The festival — which raises money for AIDS research and other causes — fuses genres like African music, Americana, reggae and folk.
It has been the subject of a PBS documentary, and last year USA Today called Grassroots one of "10 great places to get in tune, be outdoors."
Puryear regularly sits in on other artist's sets. He said the festival is more intimate than other festivals.
"If there's one thing it has to offer it's the closeness between the performers and the audience in that its really one thing," Puryear said.
The organization of the festival is a family affair, with Puryear's niece, Rosa Puryear, handling the booking.
"There will be lots of new exciting groups as well as old returning favorites," she said.
The lineup will be announced tomorrow, but The Ithacan got an early scoop: It will feature folk artist Lucinda Williams, reggae group The Meditations and Nigerian group Etran Finatawa. July 17 to 22 will also see festival veterans like Donna the Buffalo, John Brown's Body and Thousands of One.
"We wanted to bring music from various parts of the world to Ithaca and also give local groups a place to showcase their music to a broader audience," Rosa Puryear said.
In addition to music, the festival features a healing arts area and The Art Barn, where artists showcase their work.
"I had the best time last year," Jeb Puryear said. "I hope this year's will top it."
For more information go to grassrootsfest.org
— Patrick Doyle
Not in Ithaca This Summer?
Music festivals are always a summer highlight. But knowing which ones to travel to can be confusing. Luckily, Jambase.com provides 190 full pages of music festivals. There's everything from the Mountain Jam IV in Hunter Mountain, N.Y., featuring Bob Weir & RatDog and Levon Helm, to the Duke Ellington Jazz Festival in Washington, D.C. Most are cheap and include many of the same bands found at major pricey festivals. Keep a look out for Juneteenth festival and the Finger Lakes Wine Festival this summer if you are around town.
You can view the festivals by state and region — just don't complain you didn't see any festivals because you couldn't afford a Bonnaroo ticket.
— Patrick Doyle