After spending his time teaching Ithaca College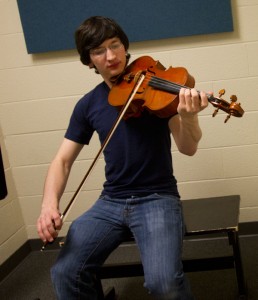 students the ins and outs of medical treatment and procedures, one professor is using his talents to help local actors and musicians at the Ithaca Free Clinic.
The clinic offers free medical assistance to Ithaca residents who are underinsured or uninsured, but until this semester didn't offer specified treatment for artists and musicians. To help bridge the gap in care, Nicholas Quarrier, associate professor of physical therapy, volunteers to provide monthly medical consultations for dancers and musicians without the financial means to see medical specialists.
Quarrier, who said he has always had an interest in performer injury rehabilitation, began treating local artists at the clinic for performance injuries last month, and he said he plans to continue volunteering at the clinic for about an hour on the third Thursday of every month.
"A lot of professional musicians and dancers don't have insurance," he said. "That's what I was hoping to tap into."
Bethany Schroeder, executive director of the Ithaca Health Alliance, said between 1,000 and 1,500 people regularly attend the clinic who may otherwise be without care. Schroeder said uninsured dancers and musicians have used the clinic before, but now they can be helped more efficiently because Quarrier is familiar with the muscular strains and sprains dancers and musicians are prone to get.
"The aspiring or already-established artistic community are, in general, pretty well underserved simply because they lack the financial resources to take care of their injuries," she said.
Schroeder said it usually takes about six months for the community to become fully aware of new projects such as this, though.
Graduate students in the occupational therapy program at the college also work with the clinic to treat patients. Quarrier said he hopes his involvement in the community will give undergraduate students in the physical therapy department a similar opportunity to gain hands-on experience.
"Once I get it secured down there with getting a decent population of patients coming in, I then want to get Ithaca College physical therapy students and occupational therapy students to join me at the Ithaca Free Clinic and learn from that," he said.
Quarrier said he thinks the college has not established a program like this earlier because most professors aren't interested in working specifically with performers.
"I'm the only faculty member that has that interest on this campus [in] working with all the dancers and musicians," Quarrier said. "It's a specific interest."
Schroeder said the new service will not only give artists better care, but will improve the clinic's services in general.
"It benefits the entire community in the sense that if one segment of the community is well then the rest of us can rely on them," she said.
Junior Stephen Gorgone, a mathematics, music performance and viola major, had to sit out of his music classes for 10 months after he developed severe muscle tension, tendonitis and nerve contractions. Gorgone began playing the viola more than 12 years ago, and he said his pain was from having to stay in contorted positions for extended periods of time. He said this type of chronic pain is something a lot of practicing musicians deal with.
"The tendonitis was from overplaying and just getting tense and having that build up," he said. "I do know a lot of other musicians who have issues like this. It comes up more frequently than not."
Gorgone turned to the college's clinic in the physical therapy department where he met and began treatment with Quarrier. He said working with the professor not only helped him get back into his class, but also exposed him to exercises he now uses to prevent the injuries from happening again.
"[The treatment] taught me techniques for reversing the effects with back exercises and ways, before, during and after playing viola," he said.
Gorgone said working with Quarrier made him learn to relax when he is practicing, and he said other local artists will benefit from Quarrier's experience with these types of injuries.
"Now I have a better understanding of what I need to do to protect myself," he said. "Never play through pain. It's not worth it."