At 8 a.m. on the Ithaca College campus, the day is just beginning, and nothing but snow and quiet fill the air. Inside Muller Chapel there is an equal stillness. But the silence is calm, not anxious for the day to come. As the crisp clang of a bell splits the air, the gathered people sit, close their eyes, breathe in and wrap themselves in thought.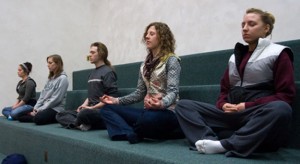 A sense of peace amid the chaos of campus life is exactly what Michael Faber, longtime meditation practitioner and Jewish Chaplain, wants to cultivate. The free meditation gatherings on Monday, Wednesday and Friday mornings, which six to seven students regularly attend, are one way to foster an all-encompassing approach to education.
"It's crucial to begin to teach a whole new approach to higher education," Faber said. "It's called contemplative education, where you're not only taught to be intellectually rigorous and to be a good critical thinker, but you're also taught the other parts of awareness and mental development."
Such new approaches attempting to curb the stressful environment higher education breeds could benefit the increasingly troubled student population. Faber said he sees overstressed students often.
"I often wonder, 'How is it possible to do academic work if you can't focus and if [you] can't relax and if you can't feel like you're in control of your life?'" he said.
Sophomore Danielle Prizzi began meditating about two years ago and regularly attends the morning sessions. She said she practices meditation because it is a welcome reprieve from the stress of academia.
"A lot of students, I've noticed, people in general, have a lot of anxiety, a lot of stress," she said. "Meditation helps you to not only focus on the issues but clear your mind of them."
Faber has been leading morning meditation at the college for nearly 10 years, and for nine years he has taught courses in the study and practice of meditation. After the programs were on hiatus during his January to June 2010 sabbatical, the morning sessions and classes were reinstated in the fall. It was at that time that Kit Muma, professor of biology, began a focused study of the practice.
"When I really seriously started was with the group here, with Michael, since September," she said. "So I joined that. And he gives a bit of instruction in the beginning, and I started asking more questions about Zen and that aspect of it."
As a scientist, Muma originally became interested in the neurological processes involved in meditation but soon found it more fulfilling on a deeper level as well.
"I looked up the neurological basis, what happens to autonomic activity, the parasympathetic/sympathetic nervous system, what happens to blood flow," she said. "As an offshoot of that I'm getting sort of the emotional and other benefits of it."
The advantages of meditation are apparent even in brain physiology. A new study in the Jan. 30 issue of "Psychiatry Research: Neuroimaging" titled "Mindfulness practice leads to increases in regional brain gray matter density," looked at the change in people who began performing 30 minutes of meditation a day. The study found improvement in areas of the brain related to memory and learning and decreases in areas that process anxiety and stress.
The indication that meditation benefits memory while suppressing stress and anxiety is one that Faber is familiar with firsthand.
"If you sustain the practice of meditation, get through the initial frustrated
periods of learning how to calm your mind … then there's no question that lower levels of stress are one of the by-products and results," Faber said.
The emotional insights of meditation are not purely secular. Meditation is a central tenet of Buddhism, a religion that had no campus community until last year when sophomore Chris Accardo founded the IC Buddhist Community. He became a Buddhist seven years ago and describes the purpose of meditation as finding insight into the connection between a person's mind and actions.
"If you meditate you're not Buddhist necessarily, but if you're Buddhist you have to meditate," he said. "For us, meditation is a way of seeing the contents of our mind. We look at the phenomenon of our own being that way. Basically, we focus on mindfulness. So you're both mindful of your actions and your own thoughts."
Faber said he finds this deeper level of self-understanding sorely lacking today. However, he said the college is becoming a receptive place for understanding the benefits of meditation.
"If the big buzz in IC20/20 is integrative learning, what does that mean?" he said. "We don't teach students anywhere in our educational system — at the lower levels or in the higher levels — anything about how to take care of their minds. I hope that part of the vision for the future delivery of higher education at this institution, as well as elsewhere will … really contribute to the overall health and integration of human beings."
As a professor, Muma also feels the pressures of the 21st century educational system and finds the concept of developing the mind through meditation can improve the entire college experience, an idea supported by a study published in 2009 by the American Heart Association titled "Effects of Stress
Reduction on Clinical Events in African Americans with Coronary Heart Disease," suggesting meditation may help reduce blood pressure.
"You say the students are stressed; the faculty are stressed," Muma said. "[With] meditating I'm able to relate to the students better and try and get them to be calm because I feel calmer in dealing with them."
Junior Sarah Bratt said she is often stressed, but after beginning Buddhist meditation last semester, she finds comfort in the practice.
"The great thing about meditation is you can sit down and identify the thought, 'I am dreading it. I don't want to do it,' and then it takes the power away from that thought," she said. "I definitely feel a difference in my mental health. … I feel like there's not as much of a weight on your shoulders."
After 30 minutes go by, the bell chimes again, signaling the end of that morning's meditation. As the attendees get up to begin their hectic days, the benefits of their meditation can be felt in the peaceful and quiet air. They enter the cold outdoors, bringing a sense of calm with them throughout their day — the same focused sensation that has made people come back to meditation for centuries.
"[Meditation's] always a good thing,"
Accardo said. "It's been a good thing for 2,500 years. I'd just encourage people to try it and to try it genuinely — to do it every day."