Cars line a gravel driveway alongside a cornfield, leading to a three-story building overflowing with vintage books and furniture. Tall glasses lay outside, filled with rainwater next to rusted pots and gardening tools. A grass lawn covered with couches, mattresses and mops extends to the open-air market known as Hub's Place.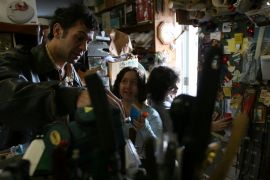 Since 1976, Hub's Place has drawn people young and old, from Ithaca and beyond, to an oversized and unorganized assortment of antiques and previously owned commodities.
Located off Route 79 West, locals and visitors come to sort through the mountains of goods in search of household supplies, collectibles or miscellaneous materials. Customers have the opportunity to bargain the price for whatever treasures they find, whether it is an old-fashioned toaster or an oil painting.
Randy Hubbell, sales associate and the son of Hub's Place's owner, said he is lenient about pricing because he prefers to have his clients leave satisfied.
"I like to have the customer tell me what they would like to pay for it," Hubbell said. "Then I decide what price I prefer, and we split the difference."
The antique venue has become a place for artists, students and travelers to share ideas for creative projects such as homemade pumpkin lanterns in time for Halloween.
Junior Katie Woodward purchased a barbershop chair, old printing blocks and a collectable yellow mug at Hub's Place in September.
Woodward, who has been to Hub's Place twice this semester, doesn't have a use for most of the items she purchased but plans to reupholster the chair for her dining room table.
She said she enjoys Hub's Place despite the lack of use she has for the items she purchases there.
"Hub's Place was recommended to me by another student, and I continue to recommend it to others," Woodward said. "It's a nice place to look around and kill time without spending a lot of money."
Dianne Roe, an artist and peace activist from Corning, N.Y., first came to Hub's Place with her father more than two decades ago seeking wooden window replacements.
"They let you look through things and explore until your heart's content," Roe said.
Twenty-five years later, her gray hair glistens in the sunlight as she digs through the boxes and shelves in search of old tools to renovate her home.
When Roe was ready to pay for her merchandise last Saturday, she contemplated whether to buy a four-inch cylinder piece of wood she discovered after climbing through thousands of other objects in her turquoise jumpsuit. Her glasses bounced up and down on her nose as she investigated the shiny chunk of wood with a hole.
"I don't know what I'm going to use this for," Roe said. "I think it's a wooden faucet."
The variety and overwhelming quantity of products have drawn Roe to purchase several of the same items.
"I have too many picture frames," Roe said. "Now my storeroom looks like Hub's Place."
Glenn Hubbell, owner of Hub's Place, purchased the land to create the antique yard, where he also lives, more than 30 years ago. Hubbell said Hub's Place has strengthened the area's sense of community.
"The clients, some who have been coming for 30 years, are very rewarding because they make us part of the community," Glenn Hubbell said. "When college graduates return to Ithaca, they put Hub's Place on their agenda."
To find their goods, the Hubbells are notified through local banks, residents and referrals that contents are for sale. Prices are negotiated and products are removed from the homes of people who are downsizing or moving into retirement facilities within a 30-mile radius. This procedure ensures an influx of new materials.
Randy Hubbell said the continuous increase in supplies causes everything to pile up.
"I don't like to see things sit," he said. "I'd rather a customer get use out of something."
Roe said she recommends having time and energy when visiting Hub's Place.
"It looks like a basement when you just move in and haven't started sorting things out yet," Roe said. "It's kind of like you're looking through history."
Hub's Place is open from 10 a.m. to dusk, Saturdays and Sundays, at 1308 Mecklenburg Road off of Route 79 West.