With a schedule chock-full of classes, meetings and homework, the last thing a college student needs is a boring workout.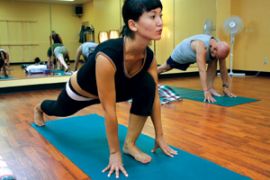 Medical studies continue to show that regular exercise helps prevent disease, build muscle and reduce stress. Yet in 2001 an Ohio State University study found that out of 937 representative students, 52 percent were physically inactive or exercised irregularly.
Brad Buchanan, assistant director of recreational sports at Ithaca College, estimates that on any given weekday during the fall semester, approximately 900 students visit the Fitness Center. With an undergraduate enrollment of more than 6,000 students, that means about 15 percent of the student body works out on campus on an average weekday.
For a health-conscious young adult who is tired of the treadmill, there are atypical ways to get moving, get fit and get healthy.
Tori Brown from The Pilates Room at Island Health and Fitness in Ithaca has developed an unconventional way for anyone — a college student, a paraplegic or a pregnant woman — to get a total-body workout.
Two years ago, Brown developed the trademarked Aqualates program with Chimene Montivero-Cole, a physical therapist who graduated from the college
in 1999. Aqualates is best described as a three-dimensional strength-training water workout based on Pilates.
The idea came up when some of Brown's Pilates clients experienced difficulty with transitions between poses and needed special accommodations, either
because of an illness or because of lack of flexibility. The duo tried teaching Pilates-based motions in the water and it proved effective.
Clients were more comfortable and saw faster improvements than in the studio. Brown and Montivero-Cole then created a fitness repertoire based on Pilates but designed for the water with a different muscular focus.
"In the classroom, we place a lot of emphasis on the outer abdominal muscles that stabilize the spine," Brown said. "In the pool we're working the deeper stabilizers that are harder to target."
Even for the well-trained athlete, Aqualates can be an excellent form of exercise. Most athletic training focuses on the "prime movers" — muscles that provide power and force. Little attention is paid to the ones that protect the body from injury. Those deeper muscles are the focus of Aqualates.
Brown has consulted with the Wichita Stealth minor-league arena football team, which has incorporated some Pilates and Aqualates principles and training into their workouts.
"[Aqualates] works absolutely every muscle you own," Brown said. "It can work the big muscles, it can work the core muscles and the muscles you use to
stabilize. Anyone at any age can do it, but anyone at any age can also be challenged by it."
Aqualates employs Montivero-Cole's physical-therapy background, since all programs were designed with physical therapy in mind.
"Part of the class is to provide sound education to clients as to how they are moving and why they are moving that way," Brown said.
Though the Fitness Center does not offer Aqualates classes, it does offer a water aerobics class, which Buchanan predicts will attract students looking for a non weight-bearing workout.
Buchanan also foresees the Fitness Center's "mind/body/soul" classes such as yoga and Pilates gaining popularity because they appeal to a different demographic than the typical gym-goers who prefer the weight room and fitness machines.
Someone looking for a mental and emotional connection to fitness may want to check out another eccentric way to stay in shape. Psychotherapist Eric Widerstrom offers an eight-week mindfulness-based Stress Reduction class at The Clinton House at 116 N. Cayuga St. Widerstrom's two-hour weekly classes cover a series of lying, walking and sitting meditation in small groups.
The focus of the meditation is on mindfulness, which is a way of bringing one's awareness to the present moment.
"It's stepping out of preoccupied thinking and observing ourselves fresh," Widerstrom said. "From that vantage point we can begin to be more in touch with stressors and tensions."
Developed by Jon Kabat-Zinn in 1979, the primary goal of the exercises is to make them habitual. Though mindfulness relaxation is not a rigorous activity, the
intent is for participants to become more aware of their overall health — mental and emotional, as well as physical.
"A lot of people have negative body images, and that's why they don't exercise," Widerstrom said. "Mindfulness meditation taps into emotional fitness."
Most often Widerstrom's clients seek meditation to aid in coping with a specific stressor, from divorce to terminal illness. Sometimes people are just interested in personal growth.
"It won't cure anything, but it can improve quality of life," Widerstrom said.
Widerstrom — who received his certification through a two-year training program at the University of Massachusetts Medical School with Kabat-Zinn and three other teachers — said his clients have experienced deep relaxation, better concentration, decreased blood pressure and other indicators of stress release.
Widerstrom said participants in his classes are usually middle-aged, though he has worked with college students and young people.
"There's very few people who would come through the door who I'd turn away and say, 'This is not going to help you in some way,'" Widerstrom said.
Mindfulness-based meditation is similar to yoga in that both practices can provide feelings of tranquility.
Caroline Hoover teaches Svaroopa yoga at the Finger Lakes Fitness Center on The Commons. Svaroopa focuses primarily on relaxation techniques.
"You learn to release deep in the spine, where a lot of pain comes from — stomachache, headaches, earaches and hearing problems," Hoover said. "It sequences the spine to give you a sense of openness, freedom and safety."
Hoover turned to yoga in 1985 after experiencing chronic depression and sinus infections.
"Every time I started to do yoga, my nose would run," Hoover said. "I'd feel my sinuses ticking and clicking. Today I'm much better physically and emotionally than I was."
Hoover said Svaroopa's clarifying effect on the mind is one of its instant results.
"If you feel your mind is all over the place, stop and do a couple of poses," Hoover said. "You'll feel much better after."