Organizers of the 2012 Finger Lakes Environmental Film Festival are celebrating the event's 15th year in Ithaca in a big way — with a focus on small utopias.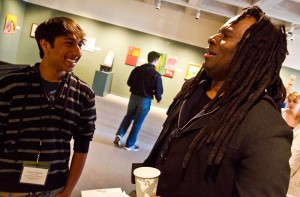 Each year FLEFF planners choose a new theme to unite all the films and incite discussion and discourse about a specific topic, which is one of the goals of the festival. This year an art installation made entirely of recyclable and sustainable materials that was created by interns represents the theme of the festival. This theme, microtopias — which means small utopias — is used to explore environmental issues without constraints or limitations.
Sophomore Gautam Singhani, an intern for FLEFF, likes the idea because he links the theme to the festival itself.
"FLEFF is like a microtopia within a microtopia," he said. "Both the festival and the college are microtopias that I feel are a great example of our current theme."
Singhani is one of about 30 students currently interning for the festival. This is one of the ways that FLEFF organizers try to garner student participation.
"I love meeting all the new media artists and other guests," he said. Art Jones, a multimedia artist, spoke during a master class Monday afternoon in the Park Auditorium about the state of the media industry.
Jones also led a multimedia performance Tuesday night in Hockett Hall that involved putting together approximately 70 minutes of footage the night before.
Jones also attended the opening event of the installation art Monday in the Handwerker Gallery. He said he enjoyed talking to students and being able to open a discussion about the breaking down of barriers between high culture and low culture, along with sharing his experiences with students.
Ann Michel, the president of Insights International, a business research and analytics company, is one of the coordinators of the internship program. She said this has been a successful year because of the returning team leaders and the signature live music events.
Everyone needs to find their own path. FLEFF asks nothing of people, except to ask questions.
— Patricia Zimmermann
"These events stand out because of the live performance," she said. "It makes it more theatrical. It makes it more special."
Tanya Saunders, an executive producer of FLEFF and assistant provost for international studies and special projects, said part of the festival's continued success is that students, faculty members and staff can get involved easily.
The festival has consistently become larger every year, attracting more and more guests. This year, more than 50 artists and filmmakers are in attendance.
The festival features events including new media performances with singers, films and artists, and the classic theater film. But, Patricia Zimmermann, professor in the Department of Cinema, Photography and Media Arts and co-director of FLEFF, said people should explore their own interests.
"Everyone needs to find their own path," she said. "FLEFF asks nothing of people, except to ask questions."