Carisa Fallon can still taste the vine-ripened tomatoes she bit into like apples when she was a child — warm tomatoes she sprinkled with salt.
She remembers cooking alongside her mother, following inspiration instead of recipes in books. They made up the recipe as they went along and only used the best ingredients — those juicy tomatoes and other vegetables her mother grew in her organic garden. It was a patch of green in Cleveland, Ohio, hidden by skyscrapers and city lights.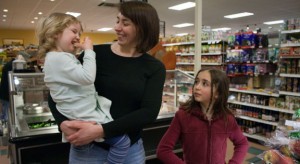 "She was not trendy," Fallon said. "It was not anything everyone else was doing. She was totally going against the flow."
Fallon said she still doesn't follow recipes much. She works with what she has in front of her.
On Tuesday it was fresh lettuce she plucked the day before from a sea of greens in Finger Lakes Fresh's muggy greenhouse with daughters Rebecca, 9, and Ema, 3. Weeks earlier it was organic goat cheese from Side Hill Acres in Candor, N.Y. Each excursion yields plates full of gourmet food her daughters sink their teeth into like some children sink their teeth into Happy Meals. Ema prefers broccoli. Rebecca is partial to beets.
Fallon, who moved to the area four and a half years ago, lives in a world where a child eating fresh vegetables isn't unusual. In a world where it's common to have shaken the same hand that butchers your meat, where cooking can be fun. As host and producer of the local public access program "Get Foodie," Fallon said she hopes to change the way families approach food.
"I feel like everybody can have fun with food and have the experiences that we have of enjoying food — of learning and being adventurous and exploring our area," she said. "I'm trying to offer that opportunity to everybody."
Each show starts on a farm in the Ithaca area and features interviews with its owners that highlight key aspects of the foods' production. The second segment of the program takes place in Fallon's own tiny, warm and cozy kitchen where she creates a meal from the ingredients she collected earlier at the farm.
Now on its 10th episode, the show, a Pegasys Public Access award winner, is coming to the end of its 12-episode, six-month-long contract with GreenStar Cooperative Market, the exclusive sponsor of the show thus far.
Brandon Kane, GreenStar's interim general manager, said the cooperative market jumped at the chance to support Fallon's unique vision, but financial constraints will prevent it from continuing to exclusively sponsor the program.
"GreenStar right now is staring the result of our weak economy in the face," Kane said. "Our net profit projected for next year is only about double of what it would cost to promote six months of the 'Get Foodie' show."
Fallon said GreenStar gives her a little less than $2,000 to produce each of the 12 episodes — one every two weeks. These funds cover production expenses and the wages of a three-member crew made up of local, homeschooled teens interested in production whom Fallon met through mutual friends. Fallon said after production costs, she nets less than $1,000 per episode.
Fallon received her bachelors degree in psychology, but took a production class that inspired her to enter the field after graduation. She was forced to quit her job as a production assistant because of a medical condition that prevents her from being on her feet all day.
Fallon has poured herself into the "Get Foodie" project. All of her resources and huge amounts of time have been spent planning each episode and recipes, editing raw footage herself and marketing the program. As a single mother with no time to take on a second job, the program is Fallon's only source of income.
"I definitely had to go out on a limb with investing all the time being a single mom on my own and with really limited finances," she said. "To put everything I had into shooting a pilot and trying to make the show happen was really risky. Sometimes I felt like I was crazy."
Fallon shot the pilot episode for the show about two years ago before she got the funds from GreenStar, but she said the idea has been cooking since Rebecca was a baby.
"She would sit in the kitchen on her little bouncy seat and would smell the food that I was cooking and make her little baby noises," Fallon said. "She just loved to be in the kitchen with me and hear the sounds of cooking and smell the food."
When she won the 2010 Pegasys Award for the program's pilot episode, Fallon was working at a bed and breakfast in exchange for room and board. It was the same year she separated from her ex-husband and began to rent a cottage on an organic dairy farm in Groton, N.Y. Fallon said the award reaffirmed her confidence in her vision, something that had gotten lost in the process of getting it off the ground.
"When we won the award, I was like, 'Wow, I'm going to start again," she said. "I'm going to make it what I want, and I'm going to make it better."
Asha Sanaker, a friend of Fallon's and finance manager at GreenStar, said Fallon has chosen an alternative path, much different from the ones most adults select.
"Carisa is working very hard to not just submit herself to adult mode," Sanaker said. "You know, get a random job, work for other people, bring home a paycheck, blah blah blah. She really has a strong sense of ideals and is trying to build a life for herself and a way of supporting her family that supports those ideals."
Fallon surrounds herself with a network of friends and dedicated crew members to make her vision a reality.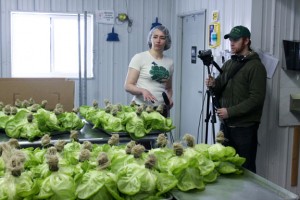 Rebecca doesn't even notice anymore as the crew creeps up behind her with a video camera — she's too absorbed in helping one of the workers at Finger Lakes Fresh stuff fluffy green sprouts into little holes in a Styrofoam plank, watching as it glides across a pool at the center of the greenhouse.
"The food we're going to make was my idea this time," she said. "That's my favorite part — being able to choose. It's a lettuce wrap with roasted carrots and beets and sour cream, and I think some sort of rice sort of thing. Polenta I think it is."
Fallon said she is in the process of looking for alternative sponsors to replace GreenStar so she can continue the show into the summer months when produce is more abundant.
If funding falls through, Fallon said she will find an alternative source of income to support her daughters while keeping up with "Get Foodie" part-time in hopes the show will take off and expand. Until then, Fallon seems content to work with what she has in front of her.
Sanaker said improvising is what Fallon does best.
"She is tremendously good at using what she has fairly creatively so that she can get by," she said. "I'm hopeful that this whole thing will take off to the extent that she won't have to be quite so creative."
Fallon said this ultimately boils down to having her priorities in order.
"I just decide what has to get cut out," she said. "Like, we don't eat out a lot. But, you know, we eat really good food."
Watch "Get Foodie" on Fallon's YouTube channel at www.youtube.com/user/getfoodie.

Carisa's Roasted Root Veggie Lettuce Wraps
4 medium beets
4 medium carrots
2 Tbsp. oil
Salt and Pepper
Cooked Freekeh (Roasted green wheat)
2 large head of Boston Lettuce
Sour Cream
Preheat oven to 400 degrees. Peel beets and carrots and chop into bite-sized pieces. Pour oil on baking sheet, add vegetables and toss until cooked. Spread evenly on sheet and bake at 400 degrees for about 15 minutes or until done. Salt and pepper to taste. Separate the lettuce leaves and arrange on a platter. Serve the vegetables and freekeh warm or room temperature on a platter or in bowls. Fill the lettuce leaf with feekeh and veggies, top with sour cream, roll up like a burrito and enjoy.