Running through a barren wasteland, the Automaton does its best to avoid the larger creature chasing him. The two robots, both constructed of aluminum, criss-cross through a dry and rocky terrain, as the sharp, pointy Automaton fights to get away from the monster behind him. Their world is brown and desolate, the conflict brought to life by a dramatic song from the "Kingdom of Heaven" soundtrack.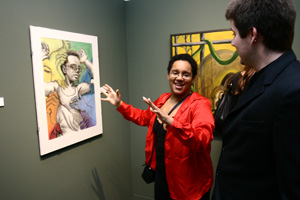 This is a scene from the animated trailer "Automaton," which the creator, senior David Duke, plans to produce into a film. The animated clips, a one-minute teaser and a three-minute trailer, are now on display as part of the 2007 Senior Student Show at the Handwerker Gallery.
As the gallery's annual event, it showcases the works of senior majors and minors in the Department of Art and the Department of Cinema, Photography and Media Arts. This year, 29 student artists are exhibiting a variety of work, from photographs and charcoal etchings to life-size steel sculptures and other 3-D pieces.
The exhibition began April 12 with an opening reception that brought in more than 300 students, faculty and members of the public, each of them eager to witness the work of some of the college's artists. Their art will be on display until May 20.
Duke's work is made up of two sculptures, three framed photographs and two stop-motion animations. A stop-motion animation is created by moving a 3-D object a frame at a time, a more traditional technique commonly used by Tim Burton. To devote his full attention to the project, Duke took a leave of absence last year to pre-produce and shoot what he has on display.
"It's hard to do animation in a school environment," he said. "You need 10 hours straight with no interruptions in order to get a result."
Cheryl Kramer, director of the Handwerker Gallery, said this year's exhibition features a larger selection of 3-D work than years past. She said this may in part be because of coursework taught by Ray Ghirardo, a professor in the Department of Art, and Bill Hastings, a lecturer in the Department of Art.
Duke's aluminum sculptures of his character "Automaton" and his monster "The Tangler" are two pieces of cutting-edge conceptual art featured in the show. "The Tangler" is the larger model of the two and contains 135 moving joints. Both were machined piece by piece by Duke himself.
Junior Evan Williams said Duke's work, centered around a storyline featuring the Automaton character, is his favorite in the show.
"It's got like a humor to it somehow," Williams said. "I wouldn't want to meet it in a dark alley."
Another form of 3-D work on display is book art, books in which artists fill the inside pages with sketches, paintings or other drawings. Seniors Neli Mechenska and Yu Iwasaki both feature these types of pieces.
Iwasaki's book art, titled "I Can Eat More," is a series of pink-colored autobiographical sketches of Iwasaki eating different foods. She said she was glad people have found the humor in her work.
"They like it," Iwasaki said. "They find it funny and that's exactly the response that I wanted."
Kramer said for many seniors, the show is their first opportunity to exhibit professional work. She said writing the artist statements and compiling the necessary materials for a published catalog were among the tasks students were responsible for.
"The Senior Show is treated just like any other show in the Handwerker Gallery," Kramer said. "There is a great deal of responsibility put upon them."
With graduation less than a month away, anxiety among seniors anticipating their entrance into the real world is demonstrated in certain art pieces. Iwasaki's "Longing for Determination" is a framed charcoal drawing of a female Olympic athlete in mid-sprint, with an etched set of hands trailing her in a race.
"Athletes know what goals always are," Iwasaki said. "They know what they're aiming for, and I don't. I'm always lost. Especially towards the end of college, it's very hard to figure out exactly what you're doing afterwards."
But for a few talented art students, the Senior Show is not merely tantamount to a senior year thesis, it is a chance to jump-start their careers. Former art major Michael Sirianni '05 had a particular body of work from his Senior Show two years ago selected for an Art Bar, Swiss chocolate bars that come with an art reproduction on a collectible card inside the wrapper.
Lisabeth Chabot, a librarian at the college, purchases a piece from the Senior Show each year. Chabot said the photography resonates the most with her.
"I continue to be very impressed with the high caliber of the aesthetic and technical aspects of student work at Ithaca College," she said.