For freshman Kody Keplinger, English classes were unbearable. Being legally blind made it difficult to read and even harder to imagine herself as a published author. But at 17, Keplinger wrote her first novel and is in the final stages of getting it published while in her first semester of college.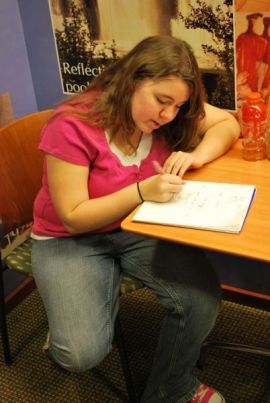 Keplinger, a writing major, started writing after she fell in love with the "Harry Potter" book series on tape. She said reading those books helped her enjoy reading and writing for the first time.
"You don't have to be visual to read," she said. "I did most of the 'Harry Potter' books on audio. It made me love reading and made me realize how much fun it could be."
Keplinger was born legally blind and was diagnosed with Leber's congenital amaurosis, a rare inherited eye disease that appears at birth, when she was 8. But that didn't stop her from writing her novel, "The DUFF" (Designated Ugly Fat Friend) in her senior year of high school.
Keplinger began sharing her writing clips on her blog. Then, she joined www.absolutewrite.com, an online magazine for young writers, to hear feedback from other aspiring authors. Keplinger was encouraged to send out query letters, which led to her finding an agent.
Because of her vision impairment, Keplinger said she loves quick and easy-to-read dialogue and incorporates it into her writing.
"What people say drives a story so much," she said. "That really comes out in things I write. I'm very dialogue-heavy. I also write first-person point of view, so I tend to be in the character's head about thoughts, but I don't focus a lot on what the character sees, which I'm working on. There's room for improvement everywhere."
Keplinger described her upcoming book as an edgy novel for teenage girls but wants to leave the plot mysterious for possible readers. She said she hopes people can relate to the story line like she does.
"I remember thinking that I'm the DUFF," Keplinger said.
She said she draws inspiration from everywhere, from her favorite authors Judy Blume and Courtney Summers to movies like "Cruel Intentions" and "Juno." Keplinger said her inspiration for this novel mostly came from songs.
"Powerful lyrics can really hit me," she said. "There's a story behind every song."
She said though "The DUFF" might not be the happiest place to be, she is sad to leave the characters behind.
"I'm so happy I'm done, but I'm so sad," she said. "I absolutely love these characters."
Keplinger's writing has already inspired her friends to start writing samples of story lines.
Freshman Caitlin Ghegan joined Keplinger in a month-long writing competition. The goal is to write at least 50,000 words of a novel in 30 days and submit the completed work to a word counter on the contest's Web site by midnight Nov. 30. Ghegan said she is also interested in joining online writing forums for feedback on her own novel.
"You meet people from all over the country who are sharing the same interests as you and have the same goals as you," she said. "It's interesting to hear their feedback and what they're writing about".
Joanna Stampfel-Volpe, Keplinger's agent, said Keplinger's writing will inspire many girls. Stampfel-Volpe said she was surprised when she discovered Keplinger was only 17. She said Keplinger's sophistication sold the book and girls will easily be able to identify with "The DUFF."
"The reactions I'm hoping to get from people are, 'Don't be afraid to be who you are,'" Stampfel-Volpe said. "Everyone feels like a loser sometimes, but it doesn't mean that you are. It doesn't mean that the popular person doesn't feel that way either. Just don't be afraid."
The writing process wasn't always easy for Keplinger. She said her editor had to remind her to describe what the characters looked like. But with Keplinger's vision impairment, she said visual description is difficult for her.
"Those are things I don't really think about as much because I don't notice them in real life," Keplinger said. "[My editor] really had to work with me on things that I can draw out."
At times, Keplinger said she ran into writer's block.
"I have always had big scenes mapped out in my head," she said. "I like to sit down and do a chapter by chapter outline of the book to overcome writer's block."
No matter the struggles of writing 69,000 words — most young adult novels range from 50,000 to 80,000 words — Keplinger said she won't stop here.
"Getting to write is like getting to act," she said. "You get to be a different person. I just love telling stories."
She said being published should never be a writer's goal. She said being happy is the most important part of telling stories.
"Just write," she said. "Don't write to get published. Don't write because you want to be a writer. Write because you like it."