Hometown: Los Angeles, Calif. Political views: Liberal. Favorite TV shows: None. Interests: Oriental carpets, opera and bow ties.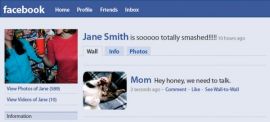 Josh Gidding's Facebook profile reveals a lot about him, including his birthday: June 3, 1954.
Gidding, 54, whose son Zack Gidding is an Ithaca College junior, is part of a growing online trend. Facebook is no longer just for college and high school students. With more than 1 million baby boomers on Facebook, women and men ages 55 and older are the site's fastest-growing demographic, according to The New York Times.
Zack Gidding was his father's first Facebook friend and was more than willing to help him create a profile.
"I thought he'd have fun getting in touch with his friends from college, plus it was another venue to goof around with him in," Zack Gidding said.
For the Giddings, it's not complicated. Zack Gidding and his father have an open relationship, in which they write Latin messages on each others' walls and send bumper stickers. For them, Facebook is just one more eccentricity for them to share.
Zack Gidding said his father sends occasional "pretend-creepy" messages such as "your father is watching." For them, this is a joke. But for other students, the thought of parents tracking their online moves is one they would rather not have.
Sophomore Allie Taylor's parents don't have Facebook accounts, but she said if they did, they would judge her online activities.
"They would nag me about not talking to old classmates that I lost touch with, and I don't want to explain [that] to my parents," she said.
Sophomore Jared Meier and his mother both have Facebook accounts but refuse to friend each other. Meier's mother uses Facebook to stay in touch with her middle-aged siblings, not her son. The two would rather keep in touch by talking on the phone regularly. She said she doesn't want to intrude on his life, and he doesn't want her to either.
"While there's hardly anything I feel I need to keep from my mother anymore, I still much more prefer telling her vaguely of that time I had fun while drunk instead of showing her pictures from that time of me belligerently drunk," he said.
Zack Gidding said he regrets posting some photos on Facebook. In January, his aunt and uncle — who have profiles — found pictures of him drinking at a party and asked him about them. Zack Gidding said not only was he embarrassed that his family found the pictures of him looking visibly intoxicated, but also more embarrassed that they were online at all.
Sarah Trenholm, a professor of speech communication at Ithaca College who teaches a course in interpersonal communications, said the Internet complicates the issue of privacy. She said most young people are unaware of how public their information truly is.
"For some reason, young people are not realizing the effects that indiscreet behavior over the Internet can have," she said. "They don't think that's ever going to come back to haunt them."
Meier said while he doesn't think his mother has tried to snoop on his profile, Facebook's security controls — or a technology gap — have prevented her from accessing even things he would have shared with her anyway.
"Just recently she tried looking at some pictures I had of my spring break vacation, and she couldn't figure out how, either because my privacy settings don't allow it or because she isn't Facebook savvy," he said.
Sophomore Jeff Wetmore forbids his parents from creating profiles. He said while privacy settings let him determine how much of his profile they could see, he would still be uncomfortable.
"It's supposed to be a college thing and not a way for parents or anyone to spy," he said. "I don't think that I have anything that I would never let my parents see. I just like the idea of them not having to see everything."
But for Josh Gidding, the ability to see everything is what gave him an inside look at his son's college experiences, such as Zack Gidding's trip to Europe two summers ago.
"When he was in Europe, it was fun for me to look at all of his photos," Josh Gidding said. "My impression of Zack's college life … is that he's having a lot of fun and Facebook is part of that fun."
Trenholm said once students and their parents choose to keep in touch via Facebook, it's up to them to decide what type of relationship they want to have in the online world.
"It's a way of saying, 'Wow, what's going on in your life?'" she said. "When you find that, you have to decide if you want a long-distance relationship. And that's a lot of work."
For the Giddings, Facebook is more than a networking site. It's a way for their family to stay close. Zack Gidding said he finds it ironic that some students limit their families' access to their lives but not people they barely know.
"It's funny that people get Facebooks to share photos and other stuff from their lives with their friends and acquaintances across distance but that they don't consider their family close enough to do the same with them," Zack Gidding said.