In 1969, Jeanne Jackson and her husband Skip were living in Indianapolis, Ind., when they realized city life wasn't for them. So the Jacksons decided to return to their central New York roots — literally.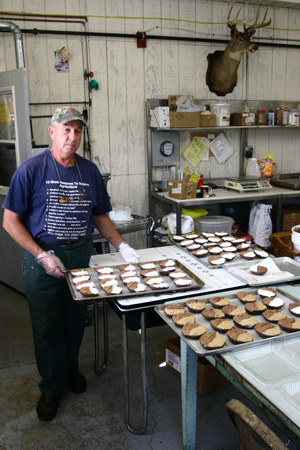 "We didn't like living in the city," Jackson said. "We wanted to come here and farm."
Following in the footsteps of Jeanne's grandparents, who once ran a roadside farm in Rome, N.Y., the Jacksons decided to start Iron Kettle Farm. What started out as a small experiment grew into the farm that still stands today, now boasting a gift shop, greenhouse, corn maze and barn.
For almost four decades the farm, located in Candor on Route 96, has been offering an escape for students who think with their stomachs rather than their heads.
"It's kind of like a return to childhood," Jackson said. "We get a lot of college students [coming] just to reminisce about their childhood."
Homemade jam and maple syrup are two of the draws of the farm, which gets its name from an iron kettle the previous owners left behind. What sets the farm apart from others in the area are the 350 hand-painted pumpkin creatures that line the yard, representing characters from Peter Pan to Harry Potter on the farm's front lawn. One of the Jacksons' daughters constructs the figures, using pumpkins as heads and stuffing clothes to give the bodies their shapes.
"What they've done here with all the little pumpkins and the characters … that's a lot of time and a lot of work setting that up," said first-time visitor Sherry Gorwaiz of Geneva, N.Y. "It's different. It's unique."
The Jacksons have worked hard to give the farm a universal and multigenerational appeal, something visitor Sarah Vakkas has enjoyed for years.
"[My husband and I] had a great time here and that was before we had kids," said Vakkas. "We thought 'Wow! Once we have kids we have to come back.'"
Families, like Karen Francis' family from Seneca Falls, have been making a visit to Iron Kettle Farm a family tradition for years.
"When my kids were little, I used to bring them out here all the time," Francis said. "My parents and I used to take my kids out here every October."
The farm isn't only for families with small children. This year, Francis brought two grown friends for their first trip to Iron Kettle Farm. Students from the local colleges also make a visit to the farm a part of their fall routines.
"As soon as we start putting up the display, local kids get all excited again," Jackson said.
Student groups use the farm as a bonding experience. Last year, junior Brittany Bovenzi and other members of Ithaca College's cross country team headed to Iron Kettle Farm over fall break.
"We couldn't go home for fall break because we had a race, so our coach felt bad," Bovenzi said. "[The farm] had good food and cheap pumpkins that you could bring back and carve."
Another popular fall destination is Stoughton Farm on state Route 38 in Newark Valley, which is home to an eight-acre corn maze. Tim Stoughton and his wife Deb are the latest Stoughtons to own the property in a line of family owners dating back to 1913. This year marks the third time the Stoughtons have had a large-scale corn maze, which they begin planning during the winter months.
The current maze is designed into a portrait of Stoughton's parents, Anne and Maurice, who are celebrating their 50th wedding anniversary. Stoughton said he estimates the two-part maze will take visitors more than an hour to complete.
"It is a challenge," Stoughton said. "This is the hardest one we've had so far."
Taking a crack at the corn maze, which will attract about 7,000 visitors during the nine-week period, is an opportunity to spend some time outdoors with friends and family. But Stoughton said the fun does not come without a challenge.
"I had to go help someone out," said Stoughton. "They had been in there a while and they were ready to come out. It can be tricky even when you have a map."
Corn cops patrol the maze, walking backwards and encountering dazed and confused customers head on. During weekends in October, the maze stays open after dark for a more puzzling experience.
In addition to the maze, Stoughton Farm offers a 20-foot tube slide and a cow-train with hollowed-out barrels to fit even the tallest kids-at-heart. The farm has no shortage of cider and doughnuts to provide some energy for tackling the maze. There are also pumpkins, potatoes, winter squash and apples that are grown on the farm.
"Fall's a fun time of year," Jackson said. "People look forward to it, the good weather, the beautiful leaves. It's the last fling — it's nice to get out and do something outside."
Prefer tilling the earth instead of buying produce from the store? Check out applejournal.com and allaboutapples.com for a complete list of pick-your-own orchards in the area. For something closer to home, head to The Commons this weekend for Ithaca's annual Apple Harvest Festival.