For sophomore Alex Cano and his longtime friends Sam Breslin and Ryan MacLean, their band Sideproject is no side project. From the band's beginning in 2005, Sideproject has played at several venues in New York, Pennsylvania, New Jersey and Connecticut. Tomorrow, the trio will bring its funk-driven rock 'n' roll to Ithaca for the first time during its headlining show at The Nines.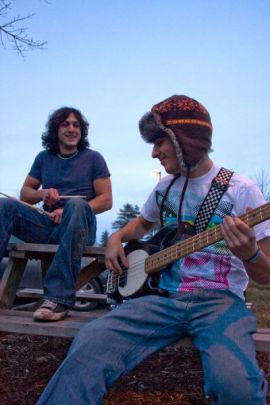 Sideproject includes guitarist and lead vocalist MacLean, drummer and vocalist Cano and bassist and vocalist Breslin. Though the band members all attend different colleges — with Cano at Ithaca College, Breslin at Cornell University and MacLean at Bard College in Annandale-on-Hudson, N.Y. — the band still manages to create new music together and perform a few times throughout the year.
Sideproject members classify their sound as energetic and raw, influenced by the likes of Jimi Hendrix, The Who, Pearl Jam and the Red Hot Chili Peppers. Aside from the sound itself, Cano said the band is especially inspired by Pearl Jam's lead singer, Eddie Vedder, for his commitment to making music as art for the masses, not just for a profit.
"[Sideproject] has goals not just to play music, but to use music to help better society and spread the message of love to today's generation through a language that we all can understand," Cano said.
When the members are at school and unable to jam together in the traditional sense, they take advantage of online communication. The trio relies on video chat to collaborate — a method that Cano said doesn't affect the band's dynamic or the quality of its material. Three times a week, Breslin, MacLean and Cano sit down in front of their respective laptops to write new material and rehearse for upcoming shows. Cano and Breslin also practice together at Cornell a few times a week.
"We were lucky," Cano said. "I've never met three guys who could click like this."
Friends since childhood, Cano and MacLean formed the band early in their high school years at John Jay High School in Cross River, N.Y. Many students at the school played in several different bands that supported each other, Cano said, which helped Sideproject gain a following in its hometown.
The three musicians went their separate ways in 2007 when Cano went off to college. After a yearlong hiatus, Sideproject reunited last summer, hopping back onto the scene in full swing and booking several shows in Cross River. Breslin replaced the band's original bassist in 2008.
Cano said he hopes Sideproject will gain a fan base in Ithaca because of its status as a college town where two of the members live eight months out of the year.
"It's always exciting to play in front of a new crowd and see new faces," Breslin said. "We are Ithaca virgins."
Summer is the band's peak performance time, when it usually plays two shows each week throughout the tristate area and Connecticut. Cano said Sideproject hopes to take its music to another level by playing gigs in New York City, Philadelphia and Toronto. The band's biggest gigs so far include opening for the alternative rock band State Radio in 2006 at Trackside in Wilton, Conn., performing last year at New York City rock club The Bitter End and playing in 2006 at the Ridgefield Playhouse Theater in Ridgefield, Conn.
"[Our] live performances are driven by thick grooves, high energy, a raw, vintage rock 'n' roll vibe and a solid amount of improvisation," Cano said.
Though most of its music is original, the band plays a few covers of Led Zeppelin and Cream that the band members put their own twist into — usually by changing the tempo or adding guitar solos. MacLean wouldn't reveal the band's set for tomorrow's performance but said the crowd can expect a high-energy show.
"When we are playing a really good show, the worlds [of the audience and the band] collide, and it is a religious experience," he said.
Despite the distance that separates its members, Sideproject is one endeavor they refuse to put on the back burner.
"It is who we are and it is our lives," Cano said.
Sideproject will perform from 10 p.m. to 1 a.m. tomorrow at The Nines. Tickets are $5 at the door.