Ithaca locals have no beef with Louis "The Hot Dog Man" Cassaniti. In fact, many of them have only positive things to say about the 65-year-old who has become a fixture on The Commons selling hot dogs for the past 19 years.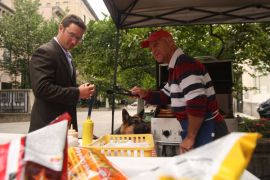 "Weather permitting, I stay until 5 p.m.," Cassaniti said, sporting an Ithaca College T-shirt and backward baseball cap.
Regulars on The Commons, like Dana Potenza, owner of the eyewear store Opti Vision, take advantage of Cassaniti's stand for their lunch breaks.
"He cooks a good hot dog," Potenza said. "I remember him being there since the 1980s. If you ever want to find anything out about anybody, he's the guy to go to."
Indeed, one would be hard-pressed to find a local who is unfamiliar with Cassaniti's hot dog tent. Many, having gotten to know him through small talk, affectionately refer to him as "Lou." He said the friendly atmosphere is something he actively cultivates.
"Talking and working are 50-50," Cassaniti said. "I like how fast-paced the job is. People are always in a hurry."
Cassaniti has won a number of fans on The Commons through his personal, nontraditional approach. Michael Alderson, owner of T-Shirt Express, said Cassaniti is a special part of downtown Ithaca.
"Lou is awesome," he said. "The Commons would not be the same without him. He's a great guy who knows everything and has been around forever."
Conversing with Cassaniti over lunch isn't the only appeal for patrons. His hot dogs are large and filling, and at $2 a dog it's practically a steal. In these troubling economic times, the importance of an inexpensive meal simply cannot be overstated, a fact not lost on Cassaniti.
"Value is the most important aspect to me," said Cassaniti. "My favorite customers are the children. They only pay $1.50 for their hot dogs."
On any given day, Cassaniti said he gets from 200 to 300 customers, many of whom are employees from the nearby shops and civic buildings. Among his more well-known patrons have been Carl Sagan, a world-renowned astronomer and Cornell University professor; Peggy Williams, the former president of the college; and the distant relative of Founding Father and former president John Adams.
"I was giving out a free bottle of water to the first person who could name for me the sixth President of the United States," Cassaniti said. "The answer was John Quincy Adams. It turned out that one of his great-grandsons was there. Nobody knew who he was; he was just there!"
Aside from U.S. history, Cassaniti said he enjoys talking about politics.
"I like Obama," he said. "He definitely has the worst job in the world, though. My favorite president is Jimmy Carter. I think history will remember him as a great man."
His other interests include music — he's a huge Elvis Presley fan — and the Yankees. He said he once gave a patron some friendly jibes for being a Mets fan after his excitement over Derek Jeter's proximity to Lou Gehrig's all-time hits record.
Cassaniti also has community concerns. He routinely reminds customers of upcoming public events like the Apple Harvest Festival, and his stand displays a sign for a new art gallery opening on The Commons.
"I'm going to be doing a fundraiser for the SPCA in the first week of May," Cassaniti said. "Animal rights are definitely a big concern for me."
Giving back to the community is something Cassaniti treasures, he said. His favorite act of kindness is feeding the pigeons on The Commons with hot dog buns. He said the crowd he draws at his hot dog stand, whether it be customers or birds, always wants a piece of the action downtown.
Sometimes Cassaniti is visited not for his hot dogs but for advice. Being the man people feel comfortable coming to with their questions is a position he said he relishes.
"The two most common questions I get are: 'Where's the post office?' and 'Where's Moosewood?'" he said.