When she was a student at Ithaca College, Liz Brenna '07 received a coupon for a free Ben & Jerry's ice cream. The small piece of paper changed her career.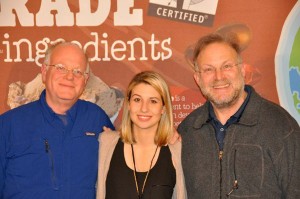 After listening to a speech from Ithaca resident Jeff Furman, a member of the Ben & Jerry's board of directors, about his work with corporate social responsibility, Brenna was inspired by the company's work for social justice and sustainability and decided to base her career on building ties between corporations and communities.
She landed her dream job with Ben & Jerry's after graduation and recently left the company to found Socially Good, a Rochester-based business that helps for-profit companies become more environmentally and socially responsible.
Accent Editor Shea O'Meara spoke to Brenna about her work at Ben & Jerry's, founding her own company and the growing demand for corporate social responsibility.
Shea O'Meara: What inspired you to work to make businesses more socially and environmentally conscious?
Liz Brenna: In one of my classes Jeff Furman spoke. He is like the undercover third party who helped found Ben & Jerry's, and he actually lives in Ithaca. He gave me my first little pint coupon that basically changed the way I thought about business. He was a monumental person in my self-discovery and my education at Ithaca College. He inspired me to pursue this journey in business and this whole trend.
SO: What types of projects did you work on during your employment with Ben & Jerry's?
LB: The company made the transition to become Fair Trade certified. For example, in Uganda at Ndali Vanilla, where we got our vanilla, there is so much vanilla on the market that companies like Häagen-Dazs can pay next to nothing for its vanilla. What that does is exploit the farmers, and it doesn't give them a fair wage, and it doesn't even pay them enough to feed their families. It continues the poverty cycle. What Fair Trade does is the company pays five times more for it. It pays the farmers enough to support their families, to feed their kids, to send their kids to school. They're building hospitals; It's basically taking communities and bringing them out of the poverty cycle. I helped that transition at Ben & Jerry's.
SO: Are consumers interested in companies that are using socially
responsible practices?
LB: In this day and age, consumers are educated enough, and with everything that's happened, like the oil spill with BP and Wall Street and this whole Occupy movement, consumers are really demanding companies to be socially and environmentally responsible. There really aren't a lot of resources to help for-profit businesses who want to implement social and environmental responsibility, go green, become more sustainable, implement community programs internally and externally and then have the ability to enroll in campaigns through marketing.
SO: What challenges have you faced in founding Socially Good?
LB: It really isn't an easy task because Fair Trade isn't that prevalent in the United States. In Europe and other countries it's really familiar, but consumers over here are just getting word of it. When they hear Fair Trade, they think it's something more to do with export and imports. What I've found is that once people really understand it, and a company is embracing the Fair Trade or Corporate Social Responsibility or sustainability movement, the choice is easy for them. When you have Ben & Jerry's on the shelf next to Häagen-Dazs and consumers know that when they buy Ben & Jerry's they're supporting Fair Trade and they're supporting all of theses initiatives that Fair Trade encompasses, the choice is easy for them.
SO: How do you plan to help the companies you're working with become more socially responsible?
LB: A lot of companies are doing some really great things, but they're not using it as a competitive advantage. That's the track I send clients on.
SO: How can students benefit from understanding this new trend?
LB: It is the next generation of business, and getting as much exposure with social and environmental responsibility in a corporate setting is extremely important because that's where the world is heading.