Jazz composer Maria Schneider doesn't want her music to just be interesting. She said she hopes her compositions, which draw influences from classical, flamenco and even pop music, bring people together.
The Grammy-winning composer will be conducting her band, the Maria Schneider Orchestra, at 8 p.m. Sunday in Bailey Hall at Cornell University. Schneider founded the Maria Schneider Orchestra in 1992, and the group has been performing at festivals and concert halls in countries around the world, including France, Spain, Canada and Great Britain, ever since.
Staff Writer Gena Mangiaratti spoke with Schneider about her inspiration for writing music, her favorite part of performing and how dance has become a part of her compositions.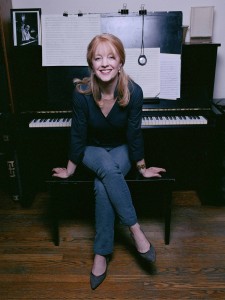 Gena Mangiaratti: What started your interest in music? When did you start to write songs?
Maria Schneider: I had a really wonderful piano teacher. I began actually when I was 5, and she taught a lot about music theory right from the beginning. She encouraged me to write songs, so at my recitals sometimes I'd play original songs. Then when I went to college it didn't happen right away. I went in as a theory major and my teachers heard me write examples of music in various styles, and one of my teachers told me they thought I really had talent for composing. I really did want to compose, [but] I just didn't feel before that I could be so presumptuous to say that I could be a composer. So I started majoring also in composition at that point.
GM: Do experiences from your own life inspire your work?
MS: Absolutely. To me, the powerful thing about music is that it expresses life. I really believe that when your music is expressing something personal, it's expressing something that's common between all people, and that's why music speaks so powerfully to people. The worst compliment somebody can give you is to say … "Oh, your music is interesting." I don't care whether my music is interesting. I want my music to be evocative. I want it to be something that speaks of kind of an emotional truth, and that kind of thing you can only get by writing from your center, writing from your life or experience.
GM: Do you have a favorite part of performing the pieces you put together?
MS: It's the part where — especially as a jazz composer — I get to hear musicians in the band express themselves [through] my music, because the music has improvisation and [it's] really required that the player brings something to the piece to make the piece more than it is on its own. I really look to just kind of enjoy the creativity of what the guys play on my music.
GM: You received a Doris Duke award for composing a dance work with the Pilobolus dance group. What was it like composing dance work?
MS: When I was young I danced. I did ballet, I did tap, and then I did a lot of figure skating. The thing that made me want to be a composer largely was the first time I went to see a dance performed. I saw how the music just catapulted these people. … I loved it. And the first time I wrote for dance, the way we worked, we'd be in the studio, I'd play a little chord on the piano there, and people would start to take position and start to move. … I found that watching the dance really helped unfold my ideas in a unique and new way that didn't feel so much like jazz. It just felt like visual motion. I started more and more on my own when I was trying to write, just get up and dance, just sort of do the interpretative dance, because when you sit, it's very hard to get the sense of time. Music is art that exists in time, and you have to — just like a movie — you have to be able to have the events happen for the right lengths of time. It's a very difficult thing to gauge, but I find that if I get up and I dance, my body helps to tell me how long is too long or not long enough for different ideas.
GM: Is composing music an emotional outlet?
MS: It can be very therapeutic to write music. If you think about some of the music that's the most emotional, powerful music — blues, flamenco, Brazilian samba — so much powerful music is really coming out of a society of people that are really suffering. My feeling about music and why it's so wonderful is it turns pain into beauty, it's alchemical in that way. It takes something that's painful, something even that's mundane, and it reorganizes it into sound so it can be appreciated and can become beautiful.